February 14, 2017
Wade Weber Chosen to Lead Kansas State University's 4-H Youth Development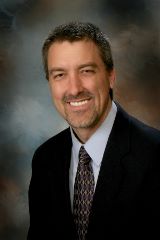 Wade Weber has been named the new State Program Leader for 4-H Youth Development and head of Kansas State University's 4-H Youth Development Department.

When he begins working in his new position on April 3, Weber will lead a program that provided educational activities to 77,620 young people across Kansas last year, aided by 10,999 adult and youth volunteers.

Weber holds a master's degree in counseling and student development from K-State and will return to Manhattan after leading 4-H programs at Iowa State University for the last seven years.

He also holds a graduate certificate from K-State in academic advising and a bachelor's degree in interdisciplinary studies from Central College in Des Moines, Iowa.

During his past seven years at Iowa State, Weber's results-oriented approach grew six county programs to a 10-year high in 4-H youth engagement, club membership and volunteerism.

Along with extensive supervisory, development and coaching experience, Weber's work with 4-H includes serving as the state president of the National Association of Extension 4-H Agents in Iowa in 2014 and expanding 4-H youth program capacity in Iowa and South Dakota.

He has won numerous awards for bringing innovative approaches to youth activities in STEM, agriculture and natural resources, creative arts, precision ag, and animal science – all with a particular focus on college and career readiness.

Weber lived and worked in Manhattan for several years prior to his time at Iowa State, serving in local and regional director positions for InterVarsity Christian Fellowship/USA. In those positions, he coordinated efforts at nine different university campuses in Arkansas, Kansas, Missouri and Nebraska and served as a program director for collegiate summer programs in Bolivia and Ukraine.
If you'd like to welcome Mr. Weber into his new position and into the K-State Research and Extension family, you can contact him via email at wademweber@gmail.com.

(My thanks to our K-State Research and Extension News Media Services for providing this news release within our Research and Extension family)