May 9, 2017
Strategic Thoughts - 2004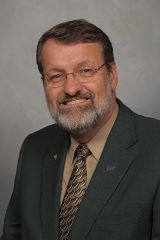 I enjoy looking back and reflecting on where we were and where we are today, and then to think about where we need to be heading to meet tomorrow's challenges. Here is a reflection from November 9, 2004.
A task force of 40 individuals from all across this state met at Rock Springs 4-H Center last week to further its work on a strategic plan for the Kansas Cooperative Extension mission of K-State Research and Extension. This plan, once completed, will set forth a series of broad recommendations to be implemented over the next several years. Those recommendations will tell us all "what" needs to happen across the system. With those recommendations, a series of "how to" implementation steps will further be developed to assure that K-State Research and Extension responds to the recommendations.
The task force met on October 27 to focus on what we should preserve, enhance, create, and set aside within KSRE with attention to organizational structure, education and information dissemination, marketing, and resource development. From that work, a draft set of recommendations for the system is being developed. The task force work will be posted on our strategic planning website within the next few days. Soon after that the full set of draft recommendations will be presented.
A few summary statements coming from the task force include such things as:
Keeping a presence in every county through an office, local staff, and volunteers.
Enhance the reach of KSRE into minority communities to better understand the culture, issues, and needs.
Eliminate boundaries across the system that hinder development and delivery of high impact educational programs.
Enhance the linkage of applied research to the Extension educational programs.
Reach further into the University and to other public and private partners to help KSRE better address the complex community-based issues and problems.
Enhance the local agent's capacity to work with the local advisory committees in developing and delivering strong educational programs to improve the quality of life and economic well-being of people in Kansas and beyond.
The intent of such a planning effort is simply to assure Cooperative Extension to be relevant, sustainable, and of the utmost quality in its delivery of education and services throughout our state.
Have we met the mark, and stayed true to those goals? Were they the right goals for the future of a robust, strong, relevant, and valued KSU Cooperative Extension program? Where do we need to be heading to fulfill our mission for tomorrow's challenges? We've been able to maintain strong presence in every county, moving from 5 to 48 counties organized into multi-county Extension Districts. Reaching new and under-served families through all our programming is evident. The Center for Engagement and Community Development, along with the Institute for Civic Discourse and Democracy, are two great examples of how the broader campus has made commitment to Extension programming and engagement with people, problems, and needs across Kansas. Our board leadership and program development teams are making a difference.

Now, where is it that Cooperative Extension, with its continued commitment to the Land-Grant mission, needs to be moving for an even brighter future for Kansans?