October 27, 2020
Kansas Leadership Training is Still Available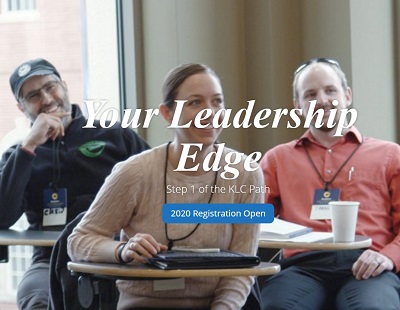 Anyone can lead, anytime, anywhere. K-State Research and Extension holds a Transformation Grant from the Kansas Leadership Center (KLC); opportunities still exist for virtual courses this year. The classes are a sequential series that must be taken in order:

Step 1 on the KLC Leadership Path: Your Leadership Edge
Step 2: Lead For Change (All classes closed; available again in 2021)
Step 3: Equip to Lead.
Use code KSRE2020 when you register at the links provided.
• Lead for Change: Cohort 2, October 27 - December 1 (Registration closed)
• Your Leadership Edge: November 11-12 (Registration closes October 28)
• Equip to Lead: October 28-29, 2020 (Registration closed)
• Equip to Lead: December 2-3 (Registration closes November 18)
Thank you to the 27 agents and specialists who have taken these classes in 2020. The total value of these classes would be $13,273 without the benefit of the grant. Your leadership team would love to hear your feedback about the value of these classes or how the experience could be built upon or improved. Please contact Nancy Daniels, Jennifer Wilson, Elly Sneath, Diane Mack, or Sharolyn Flaming Jackson with your comments.

Anyone can lead, anytime, anywhere.