May 17, 2016
Registration Deadline Approaching for Ag in the Classroom Conference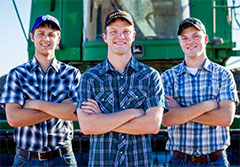 The Kansas Foundation for Ag in the Classroom (KFAC) is hosting a one-day conference for Kansas teachers, county coordinators and volunteers and those interested in ag education on June 2 at the Salina Bicentennial Center. The conference will feature keynote speakers Dr. Monte Selby and the Peterson Farm Brothers. Educators from across the state will present hands-on workshops with ideas on using agriculture to teach science, math, social studies and language arts.

Attendees will receive professional development certificates from K-State Global Campus. Registration for the event is $75 and closes on May 19. Sponsors for the event include Kansas Department of Agriculture, Kansas Beef Council, Kansas Pork Association, Kansas Dairy Commission, Chuck Henry Sales and several others. We encourage teachers, farm bureau, conservation district and extension professionals and volunteers to consider attending!

For more information, contact Natalie Anderson at nataliem@ksu.edu or 785-320-4350. To register, visit the K-State Conference Services page (you will be prompted to create a login and password): https://outreach.ksu.edu/etrakWebApp/login.aspx?ReturnUrl=%2fetrakWebApp%2fRegistration.aspx%3fMeetingCode%3d261606&MeetingCode=261606.