May 17, 2016
Retirement Reception for Agronomy's Dave Mengel, June 3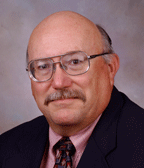 Dave Mengel, former head of the Agronomy Department and long-time Extension soil fertility specialist, will be retiring in June, 2016. A retirement reception will be held for Dr. Mengel on Friday, June 3, from 3 to 6 p.m. at the IGP Institute Conference Center on the north side of Kimball Ave. There will be a short program about 4 p.m.

All are welcome to come celebrate the career of this dedicated teacher, researcher, and communicator, said Gary Pierzynski, head of the Agronomy Department and university distinguished professor of agronomy.

"I would encourage anyone who would like to submit a letter regarding Dr. Mengel and his tenure in agronomy to send it to me by June 1," Pierzynski said. Letters for Dr. Mengel's retirement reception can be submitted to Dr. Pierzynski at gmp@ksu.edu. For more information, contact the main agronomy office at 785-532-6101.