October 31, 2017
Science Communication Week Comes to Campus November 6-11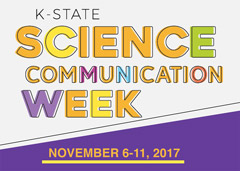 As K-State works toward the 2025 goal of becoming a top-50 public research institution, researchers must help everyday residents of Kansas understand how their work improves lives and supports local, state and regional economies.

That's why the K-State science community is working with the Sunset Zoo and the Flint Hills Discovery Center to bring Science Communication Week to Manhattan November 6-11.

"We want to help researchers become better communicators and we want to connect them with opportunities to meet citizens and talk to them about what they do," said Sarah Hancock, communications coordinator for the Office of Vice President for Research.

Several days' worth of events are planned for people inside and outside the university to learn about science, help scientists communicate with non-scientists, show children what's so great about science – and help their families access science education opportunities.

National Public Radio science broadcasters Joe Palca and Maddie Sofia ("Joe's Big Idea"), National Geographic photographer Jim Richardson, along with K-State grad students, undergrads and researchers, as well as science professionals from the Sunset Zoo and Flint Hills Discovery Center, will share their insights and discoveries on campus, in Aggieville and downtown Manhattan throughout the week.

Among several events, Palca will present "Explaining the universe in two minutes or less" at 5:30 p.m., Thursday, November 9, in Forum Hall at the K-State Student Union. Richardson will present "Seeing science (and telling the tale)" at 7 p.m., Monday, November 6, at the Flint Hills Discovery Center. Both events are free and open to the public.

Science Communication Week is part of the Kansas Science Communication Initiative and will incorporate other events such as Research and the State, Science Café, Science on Tap and Science Saturday.

The Kansas Science Communication Initiative, or KSCI, brings together Kansas State University and the community to engage people in talking about science and research. Community partners include the Sunset Zoo and the Flint Hills Discovery Center.

Visit http://www.k-state.edu/scicomm/events/index.html for the full Science Communication Week schedule.