January 16, 2018
On This Week...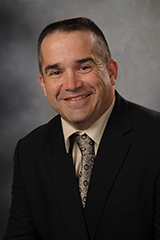 On this week, we celebrate a man - Dr. Martin Luther King Jr. – and a movement whose mission it was to make sure that all people are treated fairly, respectfully and appropriately. Imagine that, and imagine that he, as well as many other people throughout history, were killed for promoting that simple treatise. I realize it is more complex than that, but, at the very core, people are killed for promoting that we treat others fairly, respectfully and appropriately.

I believe most of you know where I stand with regard to K-State Research and Extension's core value of inclusion:
"…to foster active participation by all including diversity, respect and appreciation for co-workers and stakeholders as decision makers, and developing culturally responsible research, educational materials and programs."

What many of you may not know is why I feel as strongly as I do about an appreciation for diversity, inclusion, and reaching out to all Kansans. Maybe today's post will shed some light on that subject.

First off, I grew up in a region that was essentially racially and ethnically mono-cultural. My high school, which was rural but large by Kansas standards, had one family of color. While our exposure to other races, ethnicities, sexual orientation, beliefs and cultures was limited – my parents taught me that simple treatise to treat people fairly, respectfully and appropriately. They taught me to remember that there are base commonalities among all people, and, where there are differences, who's to say whose differences are better or worse? They impressed on me to learn the "why" underlying those differences, to respect and appreciate those differences, and to remember that those differences do not adversely affect how I run my life. In fact, the appreciation of and respect for difference has often enhanced my life.

A second reason why I feel as strongly as I do about this topic occurred in my early twenties. I was managing a feeding crew on a large, southwestern dairy, and I was naïve thinking that most people bought into the whole "treat people fairly, respectfully and appropriately" thing. My crew was filled with hardworking people that did the best they could to work a twelve hour shift, keep our cows fed, maintain our feeble equipment – feed, shelter and clothe their families – and to prepare their children for a life better than their own. Yes, most looked different than me. It didn't matter, or so I thought.

One other manager on the dairy would troll my crew on my days off. If the slightest infraction occurred, the workers of color would be terminated on the spot and already replaced before I returned. They would be replaced by workers who looked like, well, me. Once I figured what was going on, I ended up working an average of 18 hours a day, seven days a week for at least six months straight to protect my crew. When I left that dairy, I vowed to do my part. Later on as an Extension specialist, one of my programming areas involved bridging the cultural understanding gaps between farm employers, employees, and the communities in which they lived. It was and is extremely rewarding work. I hope it somehow partially repaid what Elijio, Antonio, Arnulfo and others on my crew went through.

Finally, when I think about the probability of anyone of us being born, it is extremely small. It is truly a miraculous event, and we need to treat each individual with the respect given to miracles. Plus, when I think of all of our problems and challenges in this world, we are going to need all of those individuals with their unique skills, insights, experiences and education to truly address them.

It is this latter part, education, where we in Extension fit in. I believe that everyone wants to improve their lives, livelihoods and communities. Some will only go from point A to B, while others will go from point A to Z. Either way, the world is a better place for it. Our education programs help people improve their lives, livelihoods and communities. If we leave people out, whether intentional or not, we miss so many opportunities to truly make a difference. If we proactively expand our reach and make sure we are fairly, respectfully and appropriately giving all Kansans greater access to our research, programs, and services – just think of how much better our world will be!