May 8, 2018
News from Topeka and Strategic Emphasis #4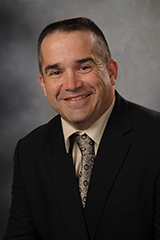 Let's start off with a little good news regarding our state appropriations. In the Monday, May 7, 2018 K-State Today's Legislative Update (https://www.k-state.edu/today/announcement.php?id=42081) – Sue Peterson announced that the Kansas legislature did approve a partial restoration of $15 million dollars for all state universities. A little over $3 million dollars of those funds will be distributed to Kansas State University, K-State Research and Extension, and the College of Veterinary Medicine.

A partial restoration of our state appropriations is good news and should be celebrated as such. Nevertheless, it remains unclear how this restoration will affect our university budget reduction, and I do not want to go out on a limb by making any predictions regarding that effect. Wait a minute! Is this a case where we have an economist who doesn't want to make a prediction? For this situation, it is a strange but true anomaly.

Last week we held the last of our initial round of Team Building – Harmony at Work workshops. I want to thank each of the local units, centers and departments who participated in the workshops. The work conducted at these workshops, our recent mentoring workshops, and other more targeted efforts directly relate to our fourth strategic emphasis, "Developing a Better Workplace." This strategic emphasis involves improving our workplace, retention rates, and system-wide communication.

As Extension professionals, we have a tough but incredibly important job to do. We are either directly helping people through education to improve their lives, livelihoods, communities and even Kansas itself, or we are providing support to our colleagues who do. With the enormity of that mission – the late, early and often long hours – public servant pay, and both internal and external differences in opinion of what our job entails, our workplace environments can often degrade. We disagree. We get tired. We get snippy. We lose trust. We may even get suspicious of our colleagues, clients, volunteers and leaders. The grass looks greener on the other side of the fence. We leave for those greener pastures.

The symptoms we see in some of our local office environments we also see in our system. We have an Extension system made up of numerous county, district, state and federal partnerships. While our system is one of the best at emphasizing local issues and local programming needs, it can be a communications nightmare. When something is perceived to be left unsaid, stories develop to fill in the correct information. If something can be misconstrued, it is misconstrued. This great system, like our own offices, erodes. Our mission efficiency decreases. The people of Kansas suffer. We suffer.

We cannot fix a high turnover rate, poor office environment, or poor system-wide communication with edicts or wishes. It takes good intentions backed by hard work. I ask that you do your part in developing a better workplace in the months to come. We will explore how to do that in the near future.