May 15, 2018
Wow!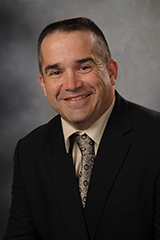 Wow! It has been an interesting couple of weeks. First, we received good news regarding the state legislature partially restoring our budget back up to the pre-2017 levels. This was mentioned in last week's Tuesday Letter. Next, we heard the disappointing but not totally unexpected news that the budget reductions we were warned about last fall were going to take place. As my email this past Friday stated, Kansas State University needs to reduce its budget by 5.72%. Then, Friday afternoon, New Mexico State University announced that our Director Floros would be their next president.

One thing that never changes is that change happens. Some changes, like the increase in budget appropriations, are welcomed. Some, like the budget reduction, are not. Others, like the news about Dr. Floros' new opportunity, are bittersweet. We are happy for him, but we will miss him and his leadership.

It is too early to officially state how these changes will impact K-State Research and Extension. Director Floros will be working with his College of Agriculture and K-State Research and Extension leadership team to help with both our budget reduction and our leadership transition. The decisions will be made in such a way as to minimize the negative impact on the people we serve, you and your colleagues, and K-State Research and Extension.

Earlier I wrote that one constant is change. There are a couple of other things that do not change. First, the people of Kansas will always need us to supply the education they need to improve their lives, livelihoods and communities. Second, we are an organization made up of Extension professionals and volunteers that care deeply for that mission, our colleagues, and K-State Research and Extension.

In times like these, we often ask "What can I do?" I ask that you remember that our number one priority is to focus on our mission by continuing to help the people of Kansas through the power of education. Whether you directly teach Kansans or help teach Kansans by providing the extremely important "behind the scenes" work that support all of our Extension programs, continue to do the great work you do to accomplish that very important mission!

Second, change is often accompanied with opportunity, but we need to look for that opportunity and act upon it. If asked for your opinion or to serve on task forces or committees that will help us navigate the changes to come and opportunities for improvement, please do.

Third, it is easy to be anxious in periods of transition. Be there for your colleagues. Now is the time for understanding, support, team work and action. Together, we will navigate this change and be stronger for it!