October 16, 2018
Annual Conference 2018: Strengthening Our Core Competencies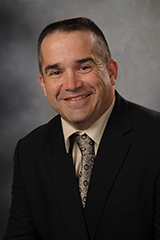 In Extension, our assets are our people and the knowledge, skills and the professional zeal and savvy they possess. Nurturing and developing these core competencies are the key to our success.

This week of Annual Conference is dedicated to personal and professional growth. I thought I would just set the tone with a few quotes:

"Personal development is the belief that you are worth the effort, time, and energy needed to develop yourself."
- Denis Waitley
"Change equals self-improvement. Push yourself to places you haven't been before."
- Pat Summitt
"You cannot dream yourself into character, you must hammer and forge yourself into one."
- Henry David Thoreau
"One can chose to move back toward safety or forward toward growth. Growth must be chosen again and again; fear must be overcome again and again."
- Abraham Maslow
"Be patient with yourself. Self-growth is tender; it's holy ground. There's no greater investment."
- Steven Covey
I will leave you with one that seems to have been written with the Extension professional in mind.
"Investing in yourself is the best investment you will ever make. It will not only improve your life, it will improve the lives of all those around you."
- Robin Sharma
See you at Annual Conference 2018 as we strengthen our core competencies – together.