February 12, 2019
A Gloom Challenge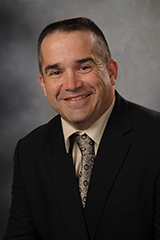 I am going to tell you something you already know. I am weird. One of the many ways you may find me weird is that I love winter, especially when it is sunny and cold or snowing. There are few things I like better than a cold, sunny winter day with the wind blowing on my face and the snow crunching under my feet.

There are many who do not agree with me. I get it. I especially get it when we get those gloomy gray periods when we rarely get to see the sun. A gloomy day can make people gloomy.

Here is a gloom challenge. Make people's day in ways that only an Extension professional can. Tell a colleague how much you appreciate their work. Call that volunteer or volunteers that have been doing a great job and thank them for their effort. Let your board know that you appreciate their leadership and service. Deliver that missing link piece of information to a person who needs it to improve their lives, livelihoods, and communities. Your effort will make your recipient's day. You will most likely be rewarded with a smile – both theirs and yours – that will carry both of you through for the rest of the day.

Thank you for the great work you do and all of your great work to come!