January 21, 2020
One Day Industrial Hemp Conference in Wichita on February 4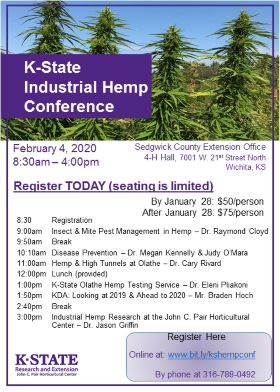 The John C. Pair Horticultural Center, in collaboration with KSRE - Sedgwick County, is hosting a one day Industrial Hemp Conference in Wichita on February 4. Please feel free to advertise this event.

We will be covering Production, Entomology, Pathology, Lab Testing, and Regulatory Issues. If you are interested in attending (and we hope you are), please know that the Kansas Center for Sustainable Agriculture and Alternative Crops has travel scholarships available for Extension Professionals to cover registration and travel. That information can be found here.

You can register here. If you have any questions, please feel to call our office or email me.