October 13, 2020
Guide to Planting Natives in Northeast Kansas Now Available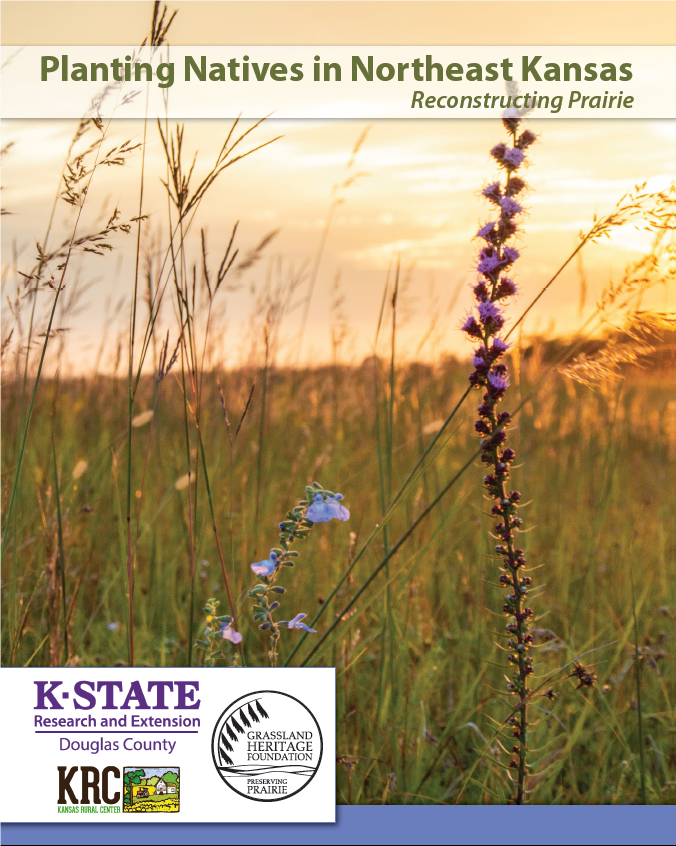 Planting Natives in Northeast Kansas is a unique collaborative effort between K-State Research and Extension - Douglas County (KSRE), the Grassland Heritage Foundation (GHF), and the Kansas Rural Center (KRC) to pull together information on and resources for integrating native plants into your landscape, whether it be in your backyard or back 40 acres. Interest in native plants is growing. Evidence for this appeal includes an increased number of native plant sales and selection of natives at garden centers, a flourishing industry of native plant nurseries and seed suppliers, and a swelling demand for information from the public. In recent years, calls to our respective organizations for help and advice on planting native plants, creating pollinator habitats, or restoring prairie have multiplied. This publication is specifically designed for those in the northeast corner of Kansas who wish to plant natives but do not know where or how to start.

The number and variety of resources available are such that landowners may feel overwhelmed by the process of converting their gardens, lawns, and fields to a landscape filled with natives. In this guide, landowners will find plant recommendations and resources specifically for northeast Kansas. The guide is designed to put necessary information all in one place – instructions, plant lists, plant and seed providers, available financial and planning assistance, reference gardens and prairies, and tips and advice from local landowners who have experience.

Additionally, a companion website for Planting Natives in Northeast Kansas is under construction, plantnativeks.org. There, you can download for free any of five publications designed to address the native plant goals you have for your property. The website will also feature plant lists, updates to cost-share programs and vendors, and progress reports from some of our neighbors' native plant projects. Planting Natives in Northeast Kansas was funded in part by a grant from the Douglas County Heritage Conservation Council.

Choose from one of five publications specific to your goals:
Gardening with Native Plants
For those wishing to tuck some native plants into existing gardens or plant a small front yard or back yard native garden.
Landscaping with Native Plants
For those wishing to replace cool-season lawns, create large native gardens, or establish native wildflower meadows up to an acre in size.
Reconstructing Prairie
For those wishing to reconstruct prairie on old fields, pastures, or cropland.
Establishing Native Cropland Borders and Buffers
For those wishing to plant native forbs and grasses to border croplands in the agricultural landscape.
Restoring Prairie Remnants
For those wishing to restore or enhance degraded, remnant prairies.
Adding native plants to your landscape, regardless of size, will enhance its beauty, its ability to support native wildlife, and its resiliency.