August 11, 2015
Gamble Named Environmental Health and Safety Coordinator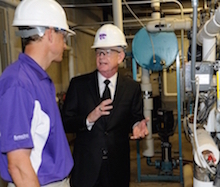 John Gamble will provide overall environmental health and safety guidance for K-State Research and Extension and Kansas State University's College of Agriculture as the new coordinator, a position formerly held by Mitch Ricketts. Gamble will work with faculty, staff and students, both on campus and across the state, in the areas of environmental health and safety awareness and compliance training, lab and chemical safety, and environmental protection, among others.

"I look forward to working with the professional staff, and the undergraduate and graduate students," Gamble said. "There are many ongoing challenges in the area of environmental health and safety, and my role is to educate and provide support to handle these challenges in a safe and environmentally responsible manner."

Most recently, Gamble was a senior sustainability consultant, focused on the health care industry, with the company, Waste Management. Prior to that, he was a program director at the University of Texas MD Anderson Cancer Center, with responsibility for chemical safety, lab safety, industrial hygiene, environmental health and safety training, emergency preparedness, environmental permitting and compliance, management of the institution's ISO 14001 and 18001 registrations, and co-chair of the Texas Medical Center's Sustainability Advisory Council.

Gamble's office is located at the Kansas Department of Agriculture. He can be reached at jhgamble@ksu.edu or 713-835-0431.