May 24, 2016
Extramural Funding... Important for Our Future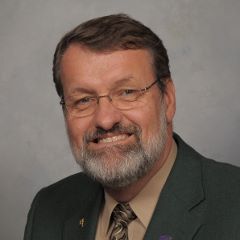 From the archives in 2006....

The fourth issue that Jim Collins focuses on in "Good to Great and the Social Sectors" is the hedgehog concept and rethinking the economic engine for social sector organizations. You see, the hedgehog concept is one of gaining focus, focus on what the organization is deeply passionate about, what are we best in the world at, and what best drives the economic engine. But, as Collins points out, making money isn't a factor in a social organization. And, social sectors don't have rational capital markets that channel resources to those who deliver the best results. So, what is the "economic engine" for K-State Research and Extension?

If we work towards our mission, maintain a focus of which we are deeply passionate, and do what we do best, we do indeed set ourselves in the best possible position to have resources flow our way. In today's time, that means reaching for external funding. The funding that comes through the regular governmental channels is critical in our future, and we must remain intent upon getting that portion. However, the growth of those public monies has not and will never keep up with the growing demand for additional resources as we attend to our mission.

In the comprehensive mission of K-State, we have sought donors to assist with scholarships for students for a long time. We depend heavily upon grants and contracts to provide core funding for many of our targeted research and education initiatives. More recently, we reach out to donors in the private sector to help fund building projects, large research/education initiatives, and other targeted programs.

In maintaining our core educational program, we are moving to more and more fee-based programming to underwrite the costs and to provide the resources for quality and excellence in our work. To provide world-class educational experiences and keep our programming vital and valued, movement to fee-based educational experiences in all areas of Extension is rapidly becoming a necessity. It may not fit for all audiences, but to think about where we can bring the resources necessary to provide the programming will be critically important to the future of Extension educational programming. The pendulum continues to swing towards grants, contracts, fees and donor gifts becoming more important to our future.

What does Collins point to as we move to these various external resources as our economic engine? "Those who have the discipline to attract and channel resources directed solely at their Hedgehog Concept, and to reject resources that drive them away from the center of their three circles, will be of greater service to the world." He drives home the importance of the Hedgehog Concept. And, I thank each of you for your success in bringing resources to your programs for the continued improvement in our Extension educational programming!