July 26, 2016
Plan Now to Participate in Prepare Kansas 2016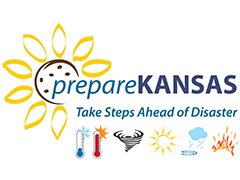 2016 marks the third annual Prepare Kansas online challenge during the month of September. This year's theme is food safety. Weekly themes relate to what to do:
ahead of a power outage,
as a power outage happens,
after a power outage, and
after a flood.
For 2016, the statewide effort will be a social media campaign only. No registration is required for local units or participants. The campaign will be delivered via the K-State Research and Extension Facebook page. Each week during September there will be three posts. The first post will introduce the weekly topic, the second will aim to increase knowledge, and the third will challenge readers to action. Facebook posts will appear on Tuesdays, Wednesdays, and Thursdays. Each week there will be related/accompanying posts on the Prepare Kansas blog, http://blogs.k-state.edu/preparekansas/.

As we look forward to another successful Prepare Kansas campaign, please be in touch with any questions or concerns you might have. For food safety questions, please contact Londa Nwadike at lnwadike@ksu.edu. For logistical questions, please contact Elizabeth Kiss at dekiss4@ksu.edu, or Jamie Rathbun at jrathbun@ksu.edu.