January 3, 2017
2017 Partnership Meetings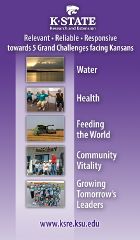 Celebrating the transition of our Extension professionals towards greater specialization, professional improvement, and impactful programming will be the focus of Partnership Meetings in 2017. Increasing the depth and breadth of Extension educational programming through professional improvement, program focus teams, and opportunities for greater teamwork and specialization of our Extension professionals is happening, and remains a goal for the future of K-State Research and Extension's success in bringing the knowledge and educational excellence to Kansas State University. We must continue to excel in reaching both traditional and new expanded audiences who can and will benefit from the knowledge and experiences we share with these vital audiences.
The 2017 Partnership Meetings registration website may be found at: 2017 Partnership Registration Form.
The 2017 Partnership Meetings are scheduled at four locations across the state, as follows:
January 24 – Wichita – Sedgwick County Extension Center, 7001 W. 21st Street N.
January 25 – Manhattan – Pottorf Hall, 1718 Avery Avenue
January 31 – Cimarron – Gray County Extension Office, 17002 W. Hwy 50
February 1 – Oakley – Buffalo Bill Event Center, 3083 US-83
A primary theme for the Partnership Meetings will be "Building for the Future." A highlight for 2017 Partnership Meetings will be a panel of Extension professionals focused on increasing programming capacity and value through specialization and innovations in reaching our target audiences. We will continue conversations and dialogue on achieving success in the Extension district structure. We are also highlighting teamwork and partnering, as we aim to strengthen program delivery and outcomes. Our focus is truly building for the future through Extension programming.
Please pass along this theme and purpose for the Partnership Meetings to encourage all board and Program Development Committee members to attend one of the 2017 Partnership Meetings.