January 10, 2017
Announcing Plans to Retire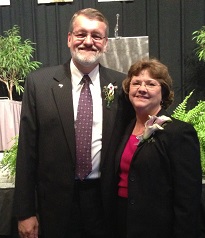 After 37 plus years in Cooperative Extension, I have decided it is time to retire. My date for retirement will be sometime near 31 May 2017. My reasons for retiring at this time are numerous. Most importantly, together Joyce and I have decided to focus on our goals of greater time to attend to our family and to travel while keeping Manhattan as home.

Retiring is truly bittersweet. I have thoroughly enjoyed my 24 years with K-State Research and Extension. It has been a privilege and honor to have been your Associate Director for the past 12 years. I am proud to be a part of this K-State Research and Extension family, and to have come to know each of you professionally and personally. It's been a great ride with a great team who I will sincerely miss. We have accomplished a great deal together in making positive differences for the people we serve. I hope some of what we've accomplished together has resulted in positive differences for you professionally as well. The future is bright for K-State Research and Extension.

I do have a little over four more months before retiring and look forward to continue working on your behalf. This announcement comes at this time, as I know Director Floros plans to get a search process underway very soon and identify my successor. If any of you have suggestions or nominations for the search committee, Director Floros asked that you forward them directly to him at floros@ksu.edu.