January 9, 2018
Jason Ellis Named Permanent Department Head for K-State Communications and Agricultural Education Department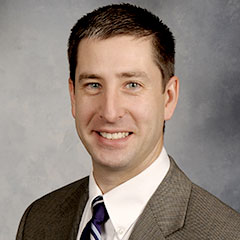 Associate professor Jason Ellis has been named permanent head of the Department of Communications and Agricultural Education at Kansas State University.

John Floros, dean and director of the College of Agriculture, announced the appointment on December 21. "Dr. Ellis brings a wealth of ideas, energy and experience to the position," Floros said. "The administrative team and I are happy that Dr. Ellis accepted our offer, and we welcome him into our college's leadership team. I am looking forward to working with him as he settles into his new role, and as he provides visionary leadership for our Department of Communications and Agricultural Education."

Ellis' appointment will begin January 14. He has served as interim department head since March 12, 2017, following the departure of Kris Boone, who served as the department head from 2005-2016. She now directs The Ohio State University's Agricultural Technical Institute.

"I'm excited about the opportunity to lead the department where I started my journey in agricultural communications 20-plus years ago," Ellis said. "The department has a long history of exceptional work in agricultural communications and agricultural education, and I'm looking forward to working with our faculty, staff and students to take the department to the next level of innovative solutions to meet tomorrow's needs."

Floros selected Ellis after a national search for the permanent department head. "I must sincerely thank Dr. Shannon Washburn as chair and the search committee for their efforts in this critical process," Floros said. "They did an outstanding job of recruiting highly qualified candidates, facilitating the interviews and departmental conversations, summarizing all comments, and providing me with representative and meaningful feedback.

"Congratulations to Jason, and my best wishes for success to him and the communications and ag education department."

Ellis earned his bachelor's degree at K-State in 1998, with a dual major in agricultural journalism and animal sciences and industry. He earned a master's degree in meat science from Iowa State University in 2003 and a doctorate in agricultural education and studies, also from Iowa State, in 2006.

He worked as an account supervisor for a Des Moines, Iowa, advertising firm from 1998-2002 before returning to academia. While working on his master's and doctorate at Iowa State, he also served as graduate research assistant, project coordinator, extension specialist and lecturer.

From there, he moved to the University of Nebraska-Lincoln, where he was an assistant professor in the Department of Agricultural Leadership, Education and Communication from 2006-2011.

He has taught at K-State since 2011, first as an assistant professor and, since 2013, as an associate professor in the department he now leads.

The Department of Communication and Agricultural Education comprises several functions, with units focused on:
• academics – undergraduate majors in Agricultural Communications and Journalism; Agricultural Education; a master's program; and, in 2018, a doctoral program
• business services – accounting services; K-State Research and Extension bookstore
• news media services – print, online, radio and video news for the College of Agriculture and K-State Research and Extension
• publishing – professional editing and design for K-State Research and Extension manuscripts, research documents, newsletters, magazines, posters and more
• University Printing – full-service graphic design, offset and digital color printing, binding and mailing services, with customer service available in Umberger Hall and the Union.