January 9, 2018
JOANN and 4-H are Empowering More Kids in Kansas to Learn by Doing, Creating and Making. #JOANNhearts4H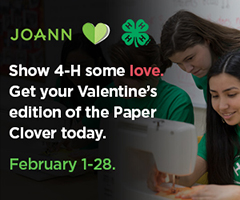 Kansas 4-H and JOANN Fabrics stores want to see more kids learning by doing, creating and making. Thousands of local 4-H members, staff, volunteers and supporters will join with JOANN customers to ensure more kids get that chance through a new Paper Clover campaign to bring hands-on 4-H programs to Kansas.

During the month of February, millions of JOANN customers, 4-H members and supporters will have a chance to share their hearts and show their love by equipping local clubs with resources to reach more kids in need. Here's how:

1. Support the 4-H Paper Clover Campaign by visiting your local store between February 1 and 28, 2018. Donate $1 or $4 at purchase, and you'll receive a clover featuring a special Valentine's Day craft from FamilyFun. With each $4 donation, you'll get $4 off your next purchase.

2. Join hundreds of 4-H youth February 3, 2018, from 11 a.m. - 2 p.m. to make and deliver custom Valentine's Day cards to local children's hospitals, senior citizen centers, and others in the community. Visit your local JOANN store to participate.

Last but not least, the new 4-H Rewards Card is here! Stop by your local JOANN store now to sign up for free and receive 15% off your purchases. It's a great way to shop with purpose and give back to 4-H! Visit http://bit.ly/2zuNwIh for more details!