June 30, 2020
K-State Garden Hour: July Gardening Webinar Schedule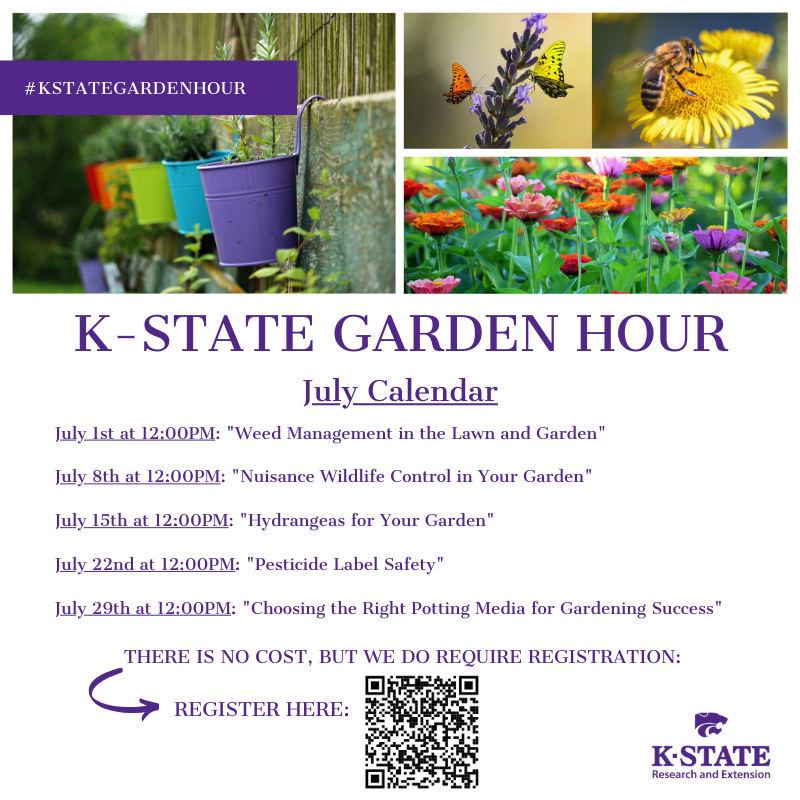 Continue joining K-State Research and Extension for their new gardening webinar series called "K-State Garden Hour." The free weekly series is every Wednesday from noon to 1 p.m. via Zoom.

This virtual series provides information on a variety of horticultural topics, as well as highlights educational topics related to plant selection, entomology, plant pathology and integrated pest management.

Whether you are new to gardening or have some experience, you are sure to learn something new. Discussions will be led by K-State Extension Professionals throughout the state. This event can include up to 1000 participants in the live session. Sessions will be recorded and posted online after each event.

The following are the featured presentation topics for the next few weeks:

Wednesday, July 1: "Weed Management in the Lawn & Garden," presented by Jesse Gilmore, Wildcat Extension District Horticulture Extension Agent,
Every gardener wages war on weeds, which compete with desirable plants for water, nutrients, and sunlight. Is that struggle always necessary, and what are the different ways to keep weeds from appearing where you don't want them? Jesse will explain what defines a weed, how they grow, the hidden merits of weeds, and methods of keeping weeds in check.
Wednesday, July 8: "Nuisance Wildlife Control in Your Garden" presented by Charlie Lee, K-State Wildlife Control Extension Specialist,
Are squirrels, rabbits, deer, or other wildlife getting the best of your garden? Join Charlie Lee in learning how to identify the animals causing problems in your landscape or garden. You will understand why animals find these areas attractive, and learn how to prevent damage through habitat modification, exclusion, and removal if necessary.
Wednesday, July 15: "Hydrangeas for the Garden" presented by Dennis Patton, Johnson County Horticulture Extension Agent,
Hydrangeas are a popular garden plant, providing plenty of season-long summer color. Unfortunately, with the ever-changing Kansas climate, hydrangeas can sometimes be a challenge to grow. Dennis Patton will explain which species are best suited to your garden conditions and share tips for their success. Once you learn these secrets, you will want to add more hydrangeas to the garden to enjoy the beauty for yourself.
Wednesday, July 22: "Pesticide Label Safety" presented by Lynn Loughary, Wyandotte County Horticulture Extension Agent,
Unlock the truth about pesticides and separate fact from internet fiction. Lynn Loughary will walk you through how pesticides are developed and which situations will provide you optimal control with the least environmental impact. Learn what you need to know in order to safely use these products and achieve the most effective results.
Wednesday, July 29: "How to Choose Potting Media for Gardening Success" presented by Dr. Cheryl Boyer, K-State Nursery Crop Production Extension Specialist,
Selecting a bag of potting media at the garden center can be a confusing experience. Fortunately, there is solid science behind engineering quality soils for growing plants. Dr. Cheryl Boyer will cover purposes, materials, mixes and how to manage soil-less potting media for container-gardening success.
To view more webinars in the series, visit our website. Each event has a separate registration page. You will need to click on and register for each webinar that you would like to attend. You can preregister for each online webinar and access past webinars online.

You can also find, promote and share each webinar on Facebook, via the Facebook Events.

If you have any questions, please email our team at ksuemg@k-state.edu.