October 6, 2020
The Main Thing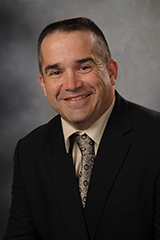 The Los Angeles Lakers are playing the Miami Heat in the National Basketball Association finals. One of the back stories is that the mantra that Laker star LeBron James uses to focus himself for success was taught to him by Miami Heat President Pat Riley. LeBron was part of the Miami Heat's championship teams earlier in his career. "The main thing is the main thing" is the phrase Riley taught LeBron. Now, one can argue that the phrase has roots that can be traced to others, probably most notably Stephen Covey, author of "The 7 Habits of Highly Effective People" and numerous other bestsellers. Covey liked to remind people that "The main thing is to keep the main thing the main thing." Regardless of who originated the phrase, the intent is clear. To be as successful as an individual professional and as an organization, you and we need to focus on the mission and not get caught up in "other stuff."

What is our main thing as K-State Research and Extension professionals, volunteers, and as a system? Is it helping counties have great fairs? Is it to placate the "state office," your local unit board, or that complaining stakeholder? Is it to max attendance at a particular workshop? Is it "how" you deliver program offerings?

I would argue that the answer to all those questions and several similar questions is no. Our main thing is to help people to help themselves by providing them with the research-backed education, resources, and facilitation needed to allow them to make decisions that improve their lives, livelihoods, organizations, communities and society.

Once we focus on that main thing, it is so much easier to sort through everything else. We can determine whether the "stuff" we are dealing with helps us to achieve the main thing or if it is just a distraction from the main thing.

With that in mind...
Why do we do needs assessments? We have to know what issues people need to address in order to achieve the main thing.
Why do we have to learn different educational delivery methods? We need to deliver our offerings in a way that maximizes the opportunity to achieve the main thing.
Why do we do program activity evaluations, performance reviews, and professional development? We want to make sure that we are effective at and improve in our ability to achieve the main thing.
Why do we engage in unit or system-wide meetings? We want to understand issues that may enhance or constrain our ability to achieve the main thing.
Why do we engage in impact reporting? We want to communicate our effectiveness so that we can gain more support for and interest in achieving our main thing over and over again!
When you are at a point of professional perplexity and do not understand why or what to do next, remember your and our main thing. Thinking about the main thing will always drive you to the right decision. After all, the main thing is the main thing.