February 22, 2022
COVID-19 and Vaccines - A Youth and Adult Community Conversation on March 17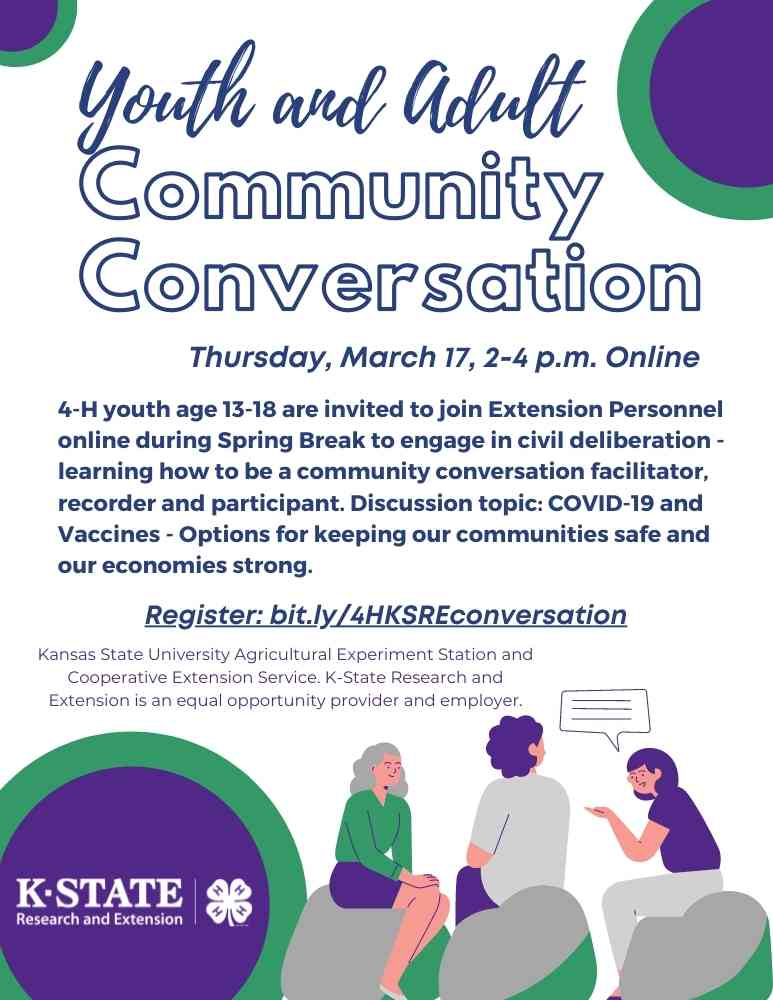 Are you an extension professional looking for an opportunity to grow your communication skills? Or are you a youth leader looking for a program to get teens civically engaged? The Community Vitality State 4-H Team and the Community Vitality Program Focus Team are inviting Extension professionals and Kansas teens to participate in a Community Conversation discussing Covid-19, vaccines, and what communities should do over the long run to keep people safe, get their local economies moving again, and prepare for future outbreaks. The event will be held online during Spring Break, using the Common Ground for Action platform (CGA) and Zoom on Thursday, March 17, from 2-4 p.m.

Registered Extension professionals and youth will come together in small groups to discuss and deliberate with the help of trained youth and adult facilitators. Each small group will connect to the issue through Zoom discussion and use the CGA platform to engage in civil deliberation, rank, and reflect on different options and potential drawbacks. Afterward, each group will share the common ground that they have reached as well as an action plan.

The Common Ground for Action platform breaks down complex issues into a series of questions using a fun and easy online tool. All participants will gain critical communication, deliberation, and leadership skills, and learn how to be a community conversation facilitator, recorder and participant. This 2-hour session will center around COVID-19 and Vaccines, a National Issues Forum Institute (nifi.org) guide available here: https://www.nifi.org/en/issue-guide/covid-19-and-vaccines.
This event is a pilot for a future statewide series of Youth and Adult Community Conversations open to the public and deliberating other complex public issues. Your participation and feedback will help ensure success with future events. To register, please click the link below:
https://kstate.qualtrics.com/jfe/form/SV_73bISm6hC8wmoaa.
We look forward to seeing you all there! For more information please contact

Jacklyn Hernandez, Project Coordinator, 4-H Community Vitality Team: jacklynh@ksu.edu

Frances Graves, Wildcat District Director and Community Vitality Agent: francesgraves@ksu.edu