September 12, 2023
The Community Health Corner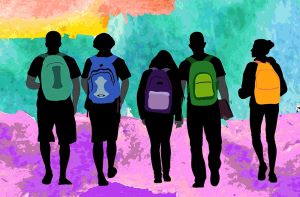 The National Extension Framework for Health Equity and Well-being recommends using community development strategies with health literacy programs to ensure that everyone has a fair and just opportunity to be as healthy as possible. The following resources help us improve well-being for all, and achieve Healthy Kansas 2030 and Healthy People 2030 objectives.
Back-to-School Immunizations - procedures and policy: Join the Kansas Health Institute on Thursday, September 14; 10 - 11:30 a.m., to find out more about back-to-school immunizations in Kansas. Hear from early childhood experts and school nurse staff about questions and concerns they receive from parents regarding vaccination requirements and how those issues are addressed. John Eplee, M.D., Kansas State Representative and family physician, will provide wrap-up comments. Register here to attend virtually. Register here to attend in-person in Topeka.
Youth Advocates for Community Health: USDA/ECOP is holding a national webinar Thursday, September 28, 2023 at 10 a.m. CDT of lightning presentations on how young people are improving the health of their communities. The webinar features the Well Connected Communities 4-H health ambassadors and advocates in addressing various dimensions of community health including physical activity, food insecurity, environmental health, stress and anxiety and mental health. Register here.
Become a Matter of Balance Coach: The KU Heath System invites Extension professionals to receive free training to become a Matter of Balance coach and facilitate an interactive, hands-on fall prevention program for older adults. The Matter of Balance program is designed to reduce the fear of falling and increase activity levels among older adults. The three-day virtual training is held Tuesday, October 3, Wednesday, October 4, and Thursday, October 5 (10 a.m. - 12:30 p.m. each day). After the 3-day training, participants will be certified to coach local Matter of Balance in-person or virtual classes. Local Programs must have two coaches. Register here. For more information contact Olivia Desmarais, OZamudio@KUMC.edu.
For more information, contact Elaine Johannes, ejohanne@ksu.edu; and Stephanie Gutierrez, smgutier@k-state.edu.