February 7, 2017
Kansas Forest Service Hosts Tree Workshop in Protection
Submitted by Jennifer Williams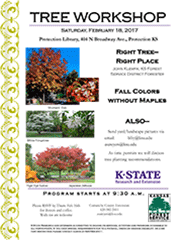 Join the Kansas Forest Service on Saturday, February 18, at 9:30 a.m. for a tree workshop at the Protection Library in Protection, KS. John Klempa, Kansas Forest Service District 8 forester, will lead the workshop on topics including: "the right tree in the right place," as well as fall colors without maples. Send your yard or landscape pictures to bfry@ksu.edu or asawyers@ksu.edu, and as time permits, we'll discuss tree planting recommendations.

Please RSVP by Thursday, February 16, for donuts and coffee. Walk-ins are welcome!

RSVP to Aaron Sawyers, 620-582-2411, or asawyers@ksu.edu.