October 3, 2017
Our Gathering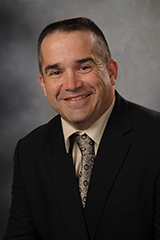 That time of year is coming upon us faster than we might realize. Our gathering, the 2017 Annual Conference, will begin on October 31 and run through November 2.

Three of the professional objectives of the conference are to:
• Share ideas on how to lead through challenging times;
• Promote learning through innovative programs based on our five grand challenges; and,
• Recognize outstanding programs and contributions by faculty and staff.

More important to me, however, is the fourth objective of our annual conference: to build personal and professional relationships through networking and communion with colleagues.

Rarely do we get this opportunity to gather en masse. Morton County can meet with Doniphan County Extension professionals to compare notes about the needs of their respective local units. Cherokee County Extension professionals can meet with those of the Sunflower District to discuss how they work with their Program Development Committees. Specialists from one region can talk face-to-face with agents from another region about programming issues. One Extension professional can inspire another. Ideas can be shared. New alliances can form. New friendships can be made and old ones reaffirmed.

Chef Allice Waters says this about gatherings:
"This is the power of gathering: it inspires us, delightfully, to be more hopeful, more joyful, more thoughtful: in a word, more alive."

The 2017 Annual Conference is our gathering. Come and commune with your colleagues. Learn from them and with them. Be inspired by your fellow Extension professionals as they are simultaneously inspired by you. Enjoy the comradery.

For more information, please go to http://www.ksre.k-state.edu/employee_resources/annualconference/index.html. To register, please go to http://www.ksre.k-state.edu/employee_resources/annualconference/registration.html.

I hope and want to see you all at our gathering.