January 2, 2018
2018: Be the Change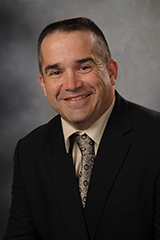 Happy New Year!

When I reflect on 2017 and think about this new adventure called 2018, a quote from Mahatma Gandhi comes to mind, "Be the change you want to see in the world."

If you think the world has become less civil, make a point to be more polite and courteous. Hold the door open for someone, practice random or planned acts of kindness and say "Please," "Thanks" and "You are welcome" more often.

If you think the world has become more argumentative, ask "Could you help me to understand why you feel that way?" when confronted with a perspective different than your own. Then listen to understand instead of listening to disagree.

If you think the professionalism and team effectiveness in your workplace needs improving, lead by example. Figure out how you can be more professional and a better team member, and do so. Your efforts will be noticed.
If you think we should work in a more interdisciplinary manner, find an issue to address and pull a team together. Be purposeful. Invite potential team members. When you invite them, tell your potential team members about the issue, why you are inviting them, and how you envision they might contribute to your team.
If you are tired of fighting the "We are the best kept secret!" moniker, start shouting from the rooftop about the impact our work has for the state of Kansas. Do it over and over again. Do it until that moniker is finally dead and buried. Keep doing it so that it doesn't resurrect itself.

If you want to reach out to new audiences, go and ask them how you might be of service to them.

If the endless budget pressure on our system worries you, take the plunge and seek out opportunities to find funding collaborators and or write grants to help support your programming endeavors.

Be the change you want to see in the world, our profession, and in our system in 2018.