January 30, 2018
Prescribed Burning in Woodlands Workshop Planned
Submitted by Jennifer Williams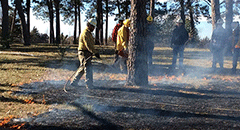 On February 28, the Kansas Forest Service, in cooperation with K-State Research and Extension, Miami County Conservation District, and the Natural Resources Conservation Service, along with partners, are sponsoring a free workshop on conducting prescribed burning in woodlands.

Experts from the Kansas Forest Service, U.S. Fish and Wildlife Service, NRCS, and others with years of burning experience will present at the Miami County Extension office, 104 S. Brayman in Paola. Doors open at 8:30 a.m. The day will begin with three indoor sessions from 9 a.m. to noon. The group will then reconvene in the afternoon at a field location to discuss site considerations and view common burning equipment up close.

This workshop aims to take some of the mystery out of burning in woodland areas, helping landowners feel empowered to use this valuable tool to manage their woodlands, according to Katie Dhungel, rural district forester with the KFS. Topics will include the effects of prescribed fire and why burning is beneficial, and how to plan for and implement a burn on your property. A question and answer session with a panel of experienced professionals, as well as open discussion where participants can share their experience with fire as a management tool are included. Each participant will take home additional resources, contact information and articles to help them plan their own burn.

To reserve your seat, call the Miami County Conservation District, 913-294-3751, ext. 3.