October 2, 2018
It's Not Too Late to Register for Annual Conference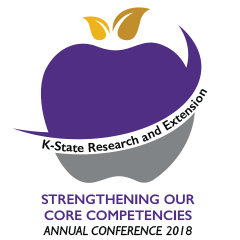 Posters/displays still needed for October 16 poster session/reception.

Charles Taber, provost and executive vice president, will be attending the poster session/reception on Tuesday, October 16. Let's make sure we showcase our great programs at the reception. The poster proposal form site is still open; submit your proposal today.

Attention Session Presenters: The Wednesday afternoon session times have been corrected on the online schedule. All sessions are 40 minutes. Session 3 remains the same, 1:30 to 2:10 p.m. Note these time changes: Session 4 — 2:20 to 3 p.m.; Break — 3 to 3:30 p.m.; and Session 5 — 3:30 to 4:10 p.m. The room assignments have been added to the online schedule.

Annual Benefits Updates: The annual benefits updates will be Tuesday, October 16, in the K-State Student Union from 10 to 11:30 am. The state benefits session will be in the Big 12 room and the federal benefits session in 227. You will learn about changes to health insurance and hear an overview of other benefits.

Awards Lunch: One of the Annual Conference objectives is to recognize the outstanding programs and accomplishments of faculty and staff. The awards lunch will be Thursday, October 18, beginning at noon in the Main Ballroom of the K-State Student Union. The lunch is provided at no charge to staff and retirees, but those attending need to pre-register ASAP.
View Speakers Online: The Wednesday opening session with Ernie Minton, interim director of K-State Research and Extension and interim dean of the College of Agriculture; Gregg Hadley, director of Extension; and Martin Draper, interim director of research and department head of plant pathology, will be streamed live and archived. Thriving During Disruption: Extension Professionalism to the Rescue by Nancy Franz, professor emeritus, Iowa State University, and Understanding Changing Demographics in Kansas, Matthew Sanderson, associate professor of sociology, also will be videostreamed. Details on access will be posted before the conference.
Registration: The conference registration deadline was yesterday. The site is still open. Please register ASAP. Your K-State eID is not your sign in for the conference registration. If you are new to the system, create an account. If you don't remember your user name or password, follow the prompts for an email reminder.
Parking Permits: If you need a permit, order through Parking Services. There are options for a three-day permit or individual permits for each day of the conference.
Industrial Hemp Research: The three-part session, Industrial Hemp Research in Kansas, will be Wednesday, October 17, in the K-State Student Union. It will run on the same schedule as the afternoon core competency sessions (1:30, 2:20, and 3:30). Topics and speakers are posted to the schedule.

Kansas Wheat Commission Recipe Books: To receive a free supply of 2018 Kansas Wheat Commission recipe books, go to Kansas Wheat, 1990 Kimball Avenue, 8 a.m. to 5 p.m., Tuesday, October 16 through Thursday, October 18. Agents who pick up recipe books will receive a free gift! You may pick up books for other counties.

Academic and Student Life Programs: Kansas 4-H'ers are some of the best and brightest student leaders. We look forward to visiting with you at the Annual Conference Resource Fair. Please stop by to visit about how we may collaborate in introducing K-State academic and student life opportunities to students in your area. If you have outstanding students you would like to refer, please email lehning@k-state.edu.