April 2, 2019
Money Smart Week - YouTube Live and Twitter Chat Celebration!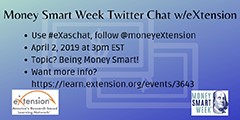 Join a special simultaneous YouTube Live and Twitter chat to celebrate Money Smart Week!

It's Money Smart Week and the eXtension Financial Security for All community invites you to join the conversation about saving money and being MONEY SMART.
When: April 2 at 2 p.m. CT
Where: Watch on YouTube Live at http://bit.ly/eXaschat_MSW19 or log in to Tchat.io, http://www.tchat.io/, and tweet easily while viewing the live stream using #eXASchat.

Complete Details: https://learn.extension.org/events/3643.