September 24, 2019
News on the Technology Front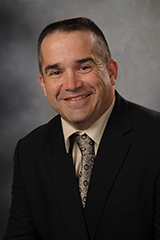 K-State Research and Extension is pleased to have three technical staff, i.e. "road warriors" to support the local unit offices in all 105 counties with their computing needs. As we know, the duties of our road warriors are quite numerous and varied. This article presents a couple of changes that are necessary to improve the service they provide to our local units and regional centers and to protect our information technology system.

One of their numerous and varied tasks is to inventory the computing hardware in the local unit offices to ensure the safety and security of the computing environment. This includes evaluating each device to determine if the latest operating systems are in use and security patches have been applied.

To inventory the computing environment, staff will be using an asset management tool, Lansweeper. Lansweeper evaluates the computer, age of the hardware, operating system and more. Lansweeper does not collect or document any user data. Lansweeper helps with the identification of computers that are exposed to real security risks and provides reports that identify unpatched applications, drivers, Windows versions, etc. Benefits to the local unit offices and technical staff include providing faster and more informed support.

Use of the tool is in line with state statute (see Chapter 19, article 26, section 87), to inventory and record county property. University Policy PPM 3430, states, "All systems connected to the campus network and the applications and databases running on those systems must have the latest security patches available from the respective vendors applied. Any system or application with known vulnerabilities for which a patch is not available must take appropriate measures to mitigate the risk, such as placing the system behind a firewall. K-State may block access to the network for systems that have not been patched."

As of January 2020, Microsoft will no longer support or provide updates for the Windows 7 operating system. To comply with university policies, to remove older, less secure machines from the campus and the networks within the state of Kansas, and to improve the computing environment, the technical staff is working with local unit offices to update the machines to the Windows 10 environment when possible. When Windows 10 is not possible due to the age of the hardware, a phased approach to upgrading machines will be provided. Staff will assist local unit offices with quotes for new computers and image and deploy new computers.

Thank you to the local unit offices for working with staff to protect our computing environments and those we serve.