March 24, 2020
As We Enter Week Two…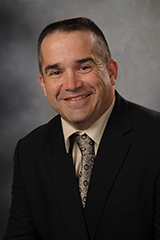 Last week we were quickly adapting our personal and professional lives to the COVID-19 challenge. I want to thank all of you for so quickly adapting to our new workstyle, protocols, and guidelines. Just like every livestock producer needs to pay even more attention to their bio-security protocols during an infectious livestock disease outbreak, we need to be extra vigilant with regard to honoring our COVID-19 protocols.

One of the most important things to do during times like these is to take care of yourself first. After all, how can you take care of others if you do not stay physically, mentally, and emotionally healthy? This week the Rural Stress Transdisciplinary Team is doling out helpful advice to do just that. Please check out their all new Tuesday Health and Wellness Tidbits and look for it in upcoming Tuesday Letters!

Another important thing to do is to be understanding and supportive of each other under this new life and work paradigm. President Myers expressed the importance of this when he unveiled the new #kstatestrong initiative in a video distributed in this Monday's K-State Today. You definitely should watch it. It can be viewed by clicking on this link: https://www.youtube.com/watch?v=PWCiqpDKbDY&feature=youtube.

Have you noticed the COVID-19 link located in the Employee Resources section of our K-State Research and Extension website? This is our INTERNAL COVID-19 site. It has many useful resources for Extension professionals and volunteers regarding COVID-19 and overcoming the educational challenges it places upon us. It can be found at https://www.ksre.k-state.edu/employee_resources/covid-19/covid19.html. More resources will be added to the website as they become available.

One new resource on this internal COVID-19 page and in an article below is an official memorandum directed to our Extension Councils, collaborating partners, and our clientele. This communication was requested by a few of our local unit directors. The memorandum explains our current COVID-19 internal and client engagement protocols.

If you have gone to our K-State Research and Extension home page, you will have noticed that our new banner displays "COVID-19 Extension Resources." If a member of the public clicks on the link it takes them to our COVID-19 webpage for EXTERNAL AUDIENCES. You may also find it by following this link: https://www.ksre.k-state.edu/news/stories/about-us/covid-19-extension.html. This site offers the public several of our and other research-based resources that will be useful to them as they address their personal COVID-19 challenges. More resources will be added to this website as they become available.

Last week we had over 370 colleagues watch our two State of Extension events on Thursday and Friday afternoon. Why two presentations? Well, somehow I switched the original Thursday presentation from my larger 500 site Zoom program to the normal 300 site Zoom program. I apologize to those that could not get on Thursday, and hope you were able to get on Friday's presentation. If you were unable to watch either or if you want to show it to your Extension Council members or volunteers, the presentation can be found and viewed by going to the COVID-19 Resources page found at this link: https://www.ksre.k-state.edu/employee_resources/covid-19/covid19.html.

On last week's Every Third Friday, we had more than 150 sites (a new Every Third Friday record) participate in Taylor Kennedy's seminar on helpful social media tips. The importance of this seminar, which was planned and scheduled way in advance of our COVID-19 challenge, became even more important due to our postponement of face-to-face activities with our public. A recording of Taylor's seminar can be found here: https://ksu.zoom.us/rec/share/ptJSH5T_2X1JaIHhsn2BAY9iWbzPX6a81Sgar_sPzxvoEkE2G5pG_E4kSh6Gw8DK.

The attendance at last week's State of Extension and Every Third Friday was very encouraging. We realize that during times like these we need more communication. Because of this, we will start a new series of one hour Zoom conferences called the Friday Extension Update. The Friday Extension Update will feature the latest updates from our Extension Administration Team, suggestions for engaging our constituents during this challenging time, and we will hear from some of our colleagues as they tell of their successes as they continue to serve the education, research, and facilitation needs of the people of Kansas. The Friday Extension Update will be held every Friday from 3:00 to 4:00 p.m. until we have beaten the COVID-19 challenge and our normal operations resume. The connection information will be distributed via email later this week. We will use our larger 500 site Zoom platform for these updates, and we will record them and post them on our internal COVID-19 site: https://www.ksre.k-state.edu/employee_resources/covid-19/covid19.html.

I have been amazed at the level of cooperation and how quickly K-State Research and Extension, our Kansas State University colleagues, and the entire United States Cooperative Extension System have come together to address COVID-19 and the programmatic challenges it causes. We are currently evaluating two programs that our colleagues at eXtension have developed to help Extension professionals develop better distance education skills and improve our ability to deliver educational content via distance technology. We are also in the initial stages of conversation with our College of Education and Global Campus colleagues to make their educator and education delivery resources available to us, too. It is amazing what we can do when we come together.
News about COVID-19 or the professional tools we can use to help us continue the Extension mission in this challenging time can be found on our internal COVID-19 page. Once again, this site can be found by clicking on the following link: https://www.ksre.k-state.edu/employee_resources/covid-19/covid19.html.

Until next week, stay healthy, stay vigilant, and keep finding new and exciting ways to serve the people of Kansas in this challenging time!