July 28, 2020
Virtual Extension Master Gardener Training Available Fall 2020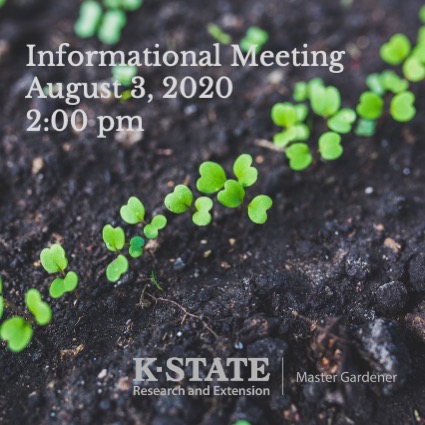 In response to the COVID-19 pandemic, K-State Research and Extension (KSRE) will offer a live, online Extension Master Gardener (EMG) basic training this Fall 2020, beginning September 3, and ending on December 17. This training will be held weekly on Thursdays from 1 to 4 p.m. Our goal is to provide agents with the ability to continue offering EMG basic training, while also respecting the health and wellness of Kansas citizens.

We will host an informational meeting next Monday, August 3, at 2 p.m. to answer questions you may have about hosting this training in your county or district. Please register here:

If you are considering hosting the training for a local group, please send an email to ksuemg@ksu.edu.

If you are not currently interested in hosting training but would like to be included in conversations about the EMG program, you can join the new EMG Coordinator listserv by emailing the team at the above address and asking to be added.
How do I sign up?
About the Program
The KSRE EMG program is a volunteer program that provides horticultural training in exchange for help supporting the work of local county units. Volunteer expectations vary by local Extension unit and can be adjusted as necessary. Local Extension agents coordinate training events and manage volunteers. Volunteer activities vary widely, all are educational, Extension horticulture-related, and represent the mission and purpose of KSRE to deliver unbiased, research-based information to stakeholders in Kansas. Volunteers are required to report their hours donated in the online reporting portal at https://ksuemg.org/.
Who Can Become a Master Gardener?
Anyone interested in horticulture can apply for the EMG program if the local county unit has an active program and accepts applicants. If you want to improve your skills and knowledge and enjoy working with people, the EMG program may be for you.

Training requirements will vary by county, but we hope this online offering will allow for additional participants to complete the program.

Requirements
You need to be available for about 40 to 50 hours of daytime training classes on Thursday afternoons via zoom from September 3, through December 17, 2020.


The Fall 2020 EMG training will be offered virtually through Zoom.

Applicants must have access to the internet, a computer that has microphone and camera capabilities.
An actively monitored email account.



You must have at least a High School Diploma or the equivalent.


Must be a Kansas citizen.