June 15, 2021
Vet Med ROCKS Resumes Holding In-Person Day Camps for Youth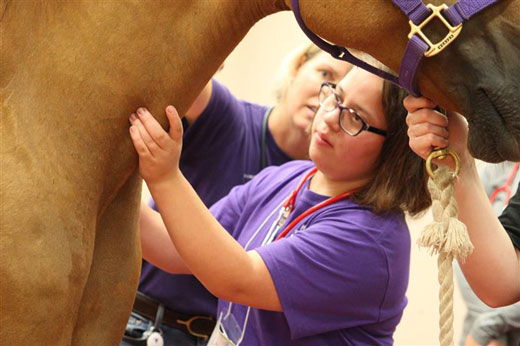 Vet Med ROCKS, which stands for Recruitment and Outreach Club at Kansas State University and is a registered departmental student organization, is hosting a series of in-person and virtual day camps for youth this summer. The Vet Med ROCKS summer camp will take place August 1-4.
"I am so excited to be planning an in-person experience for our campers this year," said Bethany Esser, a third-year veterinary student and summer camp chair for Vet Med ROCKS. "We look forward to having many knowledgeable clinicians and students speaking on a variety of preventive medicine topics. I am also excited that we will be offering several hands-on experiences with live animals. My goal is to provide a fun and educational experience for young people interested in the field of veterinary medicine. We look forward to meeting our campers in early August."
Callie Rost, the K-State College of Veterinary Medicine associate dean for admissions, said last year's virtual Vet Med ROCKS campus attracted more than 500 virtual campers.
"We thought it very valuable to offer this opportunity again," Rost said. The virtual Vet Med ROCKS camp will host campers from anywhere across the country and allow them to engage with the K-State College of Veterinary Medicine, expose them to the profession and learn about how veterinarians take care of animals."
August 1 will be a virtual day of presentations and at-home activities for high school and college students. These campers will then attend in-person August 2 for hands-on labs with faculty and vet med student camp counselors throughout the day. August 3 will be an in-person camp for middle school students entering sixth through eighth grades and August 4 is an in-person camp for grade school students entering the fourth and fifth grades.
Those who cannot attend either of these camps in person can attend presentations virtually in the morning. Morning presentations and hands-on labs in the afternoon will be conducted for campers attending on campus.
Registration is now open at vet.k-state.edu/admissions/rocks. Scholarships are available for each camp session.