October 26, 2021
College of Agriculture/KSRE Diversity Programs Office Update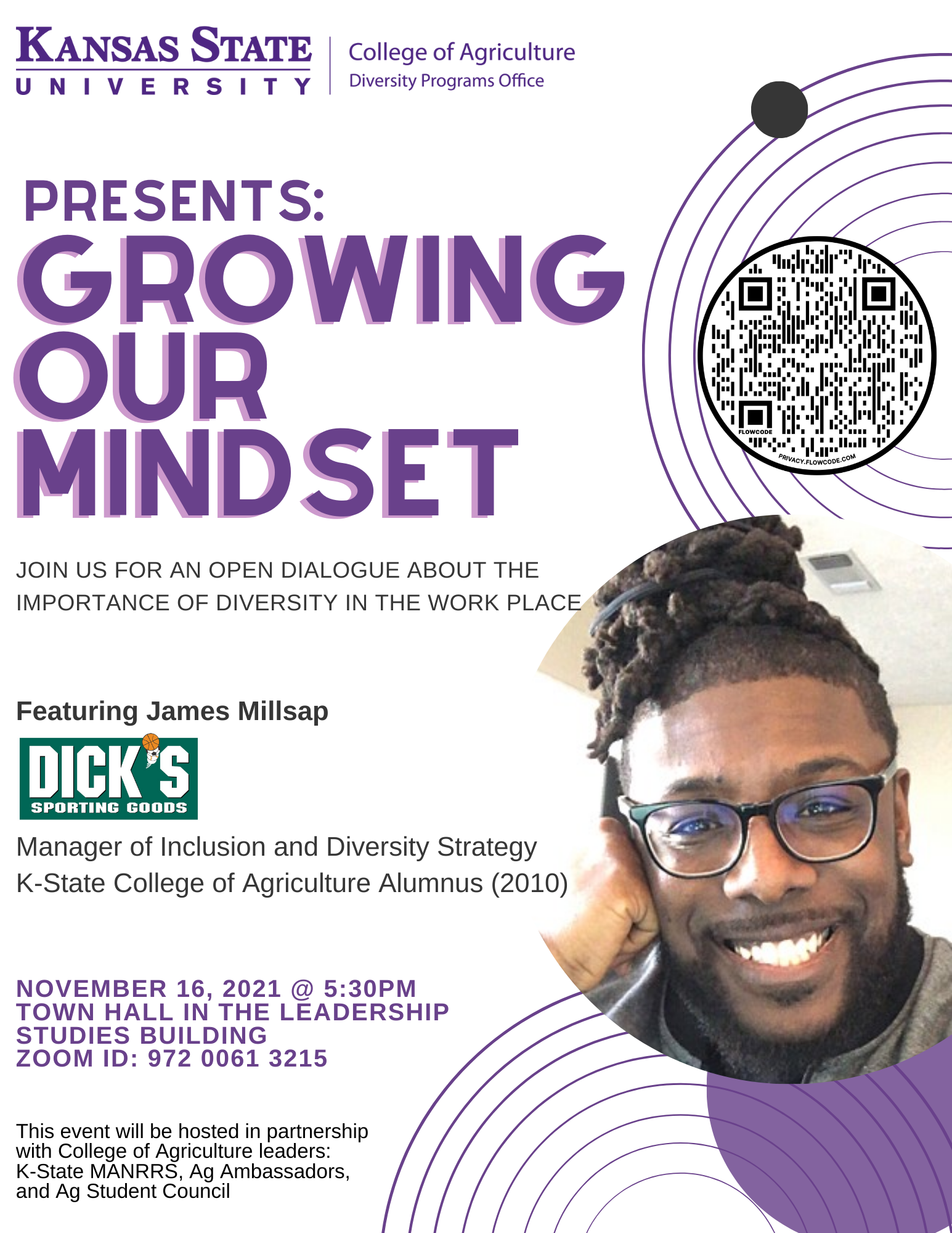 The College of Agriculture (COA)/K-State Research and Extension (KSRE), Diversity Programs Office (DPO) would like to wish you a happy October, and congratulations on making it halfway through the semester! Please join us this month as we continue to celebrate Filipino American Heritage Month, and Italian American Heritage Month with an assortment of events and activities. We also thank everyone for supporting our recent events including these below.
On October 12, at 11 a.m., K-State hosted the annual KSUnite featuring speakers and numerous breakout sessions with a goal of meaningfully engaging and embracing opportunities for respect, civility and tolerance within the K-State population. The DPO Diversity Research Team presented an "Assessment of Diversity Experience of Kansas State University College of Agriculture Undergraduates during the COVID-19 Pandemic" during breakout session #1 at 2 - 2:45 p.m., located in the K-State Student Union, Bluemont Room.

The DPO Diversity Research Team includes Dr. Zelia Wiley, Assistant Dean and Director for Diversity Programs in the COA; Dr. Andrew Barkley, Professor in the Department of Agricultural Economics; Lonnie Hobbs, Jr., Ph.D. student and graduate research assistant in the Department of Agricultural Economics; Raymond Thomas, Ph.D. student and graduate research assistant in the Department of Agricultural Economics; and Summer Santillana, an undergraduate senior in the Department of Agricultural Economics and undergraduate research assistant.
On October 18, at 9 a.m., Dr. Zelia Wiley partnered with the Dr. Melanie Derby and Mirit Shamir, directors of the National Research Traineeship (NRT) graduate program at K-State, in presenting "How collaborative recruiting can increase diversity in graduate STEM education and the U.S. Workforce" during the Michael Tilford Conference on Diversity and Multiculturalism at the Lawrence KU Campus. The DPO Diversity Research Team (as mentioned above) also presented during the conference. The presentation took place at 1:45 p.m. in the Alderson Auditorium and featured an "Assessment of Undergraduate Diversity Attitudes and Experiences during Covid-19 in the College of Agriculture at Kansas State University." The presentations were well-received and the DPO is excited to continue our programming efforts throughout November as we celebrate National American & Alaskan Heritage Month.
On November 10, at 6 p.m., please join us for a Minorities in Agriculture, Natural Resources and Related Science (MANRRS) general body in Waters Hall, room 348, or via Zoom using the ID: 972 0061 3215. Also, on November 11, there will be a MANRRS and K-State First Book virtual Book Panel at noon, Zoom ID: 972 0061 3215. The Book Panel will feature "The Marrow Thieves" with participants from the Project IMPACT MAPS program, College of Agriculture DEI (Diversity, Equity, and Inclusion) Committee and the DPO.
In celebration of MANRRS Week on November 15-19, the COA student leadership will host the Fall 2021 Growing our Mindset forum on November 16, at 5:30 p.m. in Town Hall of Leadership Studies or join via Zoom, ID: 972 0061 3215. The forum will feature James Millsap, Manager of Inclusion and Diversity at Dick's Sporting Goods and 2010 K-State COA Alumnus. He will discuss the importance of diversity in the workplace. Please join us as the event promises to be engaging and impactful yet can only be great with your support and participation.
Thank you for your continued support of our programs and efforts. Continue to look for more diversity news and events as we continue to advertise. If you require any additional information about these events, please contact Dr. Zelia Wiley at  zwiley@ksu.edu or 785-532-5793.