February 1, 2022
You May Be a Hero If…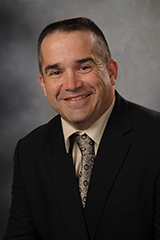 A phrase you sometimes hear today when someone is trying to describe an ordinary person doing an extraordinary thing is "Not all heroes wear capes." Those heroes often say something like, "I am no hero, I was just doing my job," or "I just did what anybody would have done."

I believe that most of our extension professionals and volunteers would also eschew the label of "hero," but, you may be hero if you…

• Made a caregiver's life better by educating them on aging concepts, elder care and caregiver self-care.

• Enabled a stay-at-home parent to land a lucrative position by empowering them with remote work certification training.

• Made a farm more productive by educating a producer on integrated weed management techniques.

• Helped a family to have healthier relationships.

• Enhanced a family's ability to make better financial decisions.

• Showed a producer how to better assess and mitigate their risk.

• Increased a community's access to locally grown foods.

• Made livestock feeding programs more effective and efficient by educating on proper forage sampling techniques.

• Safeguarded the lives of people and animals by educating landowners on the dangers of blue-green algae.

• Enabled diabetics to better manage their condition by increasing their nutrition knowledge and allowing them to explore healthier dining options.

• Served as a positive adult role model and mentor for a youth that really needed one.

• Facilitated the educational endeavors of our extension professionals and volunteers by providing them with administrative, communications, marketing and programmatic support.

• Cheered for your colleagues as they went about saving the day for the people we served!

If you have done any of these things, or the hundreds of other ways we as extension professionals and volunteers help people to improve their lives, livelihoods and communities, you are a hero in the eyes of the people we serve.

No, extension professionals and volunteers do not wear capes, but we are heroes to those we help. We should be proud of that.

Now, go do your superhero thing!