January 17, 2023
Strengthening Families 7-17 Facilitator Training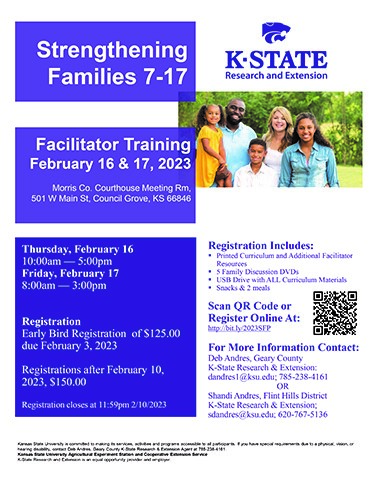 Do you have partners in your unit that have asked about parenting programs available through K-State Research and Extension? Are you looking for ways to polish your content knowledge and skills with families and youth? Are you a "new" agent looking for training opportunities as you get your feet wet?
If you answered yes to these questions, you should consider registering for the Family & Child Development Signature Program training in Strengthening Families 7-17. The training is open to K-State Research and Extension faculty and staff to improve the relational health of families and promote pro-social behaviors of youth in our schools and communities. The training is also available to your local partners to take alongside you. That will allow them to co-facilitate with you or offer the class with your professional support and our agency sponsorship!
Dates: February 16 & 17, 2023
Location: Morris County Courthouse, 501 W. Main St., Council Grove, KS
Register online at: http://bit.ly/2023SFP.
For more information, contact:
Deb Andres, Geary County K-State Research and Extension, dandres1@ksu.edu, 785-238-4161; or Shandi Andres, K-State Research and Extension Flint Hills District, sdandres@ksu.edu, 620-767-5136.