March 14, 2017
KSRE and Kansas Forest Service Host EAB Meeting, March 16
Submitted by Jennifer Williams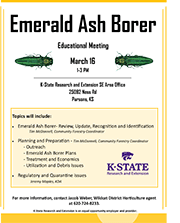 Join the Kansas Forest Service and K-State Research and Extension for an Emerald Ash Borer educational meeting on Thursday, March 16, from 1-3 p.m. at the KSRE SE Area Office, 25092 Ness Rd. Parsons, KS.

Topics will include:
Emerald Ash Borer- Review, Update, Recognition and Identification
Planning and Preparation, Tim McDonnell, KFS Community Forestry
Outreach
Emerald Ash Borer Plans
Treatment and Economics
Utilization and Debris Issues
Regulatory and Quarantine issues, Jeremy Maples, KDA
Cost: Free
For more information, and to register, contact: Jacob Weber, Wildcat District Horticulture agent, at 620-724-8233.