September 25, 2018
Financially Speaking – Save For an Emergency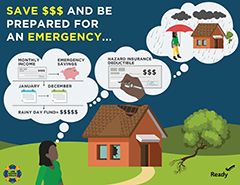 If a natural disaster or other emergency strikes, are you prepared? During September, the Family Resource Management Program Focus Team challenges you to help us to #PrepareKansas. Only about half of all Americans have an emergency fund. This gives them the money needed to help with increased expenses after a disaster. What will you do if there is a disaster? To get started, consider setting aside a small amount from each paycheck to go into a savings account. Small amounts do add up over time! Go a step further and take the Kansas Saves pledge and start saving automatically.

For more information, check out the information at these links:
Financially Speaking is an effort of the Family Resource Management PFT to support the financial health and wellness of K-State Research and Extension professionals and the communities we serve.