October 9, 2018
The Kansas Wheat Commission has Free 2018 Kansas Wheat Recipe Books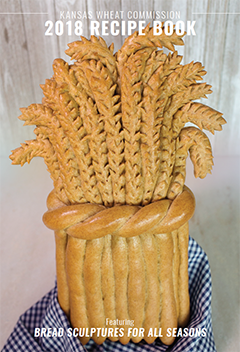 The Kansas Wheat Commission would like to invite K-State Research and Extension Agents to visit the Kansas Wheat Innovation Center anytime, 8 a.m. - 5 p.m., Tuesday, October 16 - Thursday, October 18, to pick up a free supply of the 2018 Kansas Wheat Commission Recipe Books. Kansas Wheat will not have books available at the Annual Conference's Resource Fair. (You may pick up books for other counties.)

This year's book features Bread Sculptures for All Seasons. It is a great resource for 4-H'ers or anyone interested in entering the County Fair or State Fair Bread Sculpture contests. All Extension agents who stop by for the 2018 Recipe Books will receive a free gift!

Questions? Contact cfalk@kswheat.com.