January 28, 2020
Professional Development in New and Social Media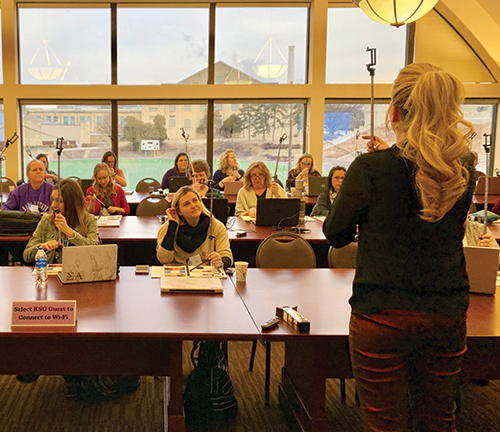 This is the fourth year we have offered a hands-on professional development experience in new and social media through our Center for Rural Enterprise Engagement (CREE), http://ruralengagement.org.

The Insight Summit is a one-and-a-half-day experience, February 20-21, that will challenge you to discover new ways to market your small, agriculture-based business in an online environment while accelerating your learning and goals for advancing your business online.

We will explore the latest in new-media research for agriculture and natural resources, using online storytelling, marketing, Instagram Facebook Live, Facebook analytics and measuring, e-newsletters, selling online, improving visual content, emerging trends and platforms, aligning strategy with key performance indicators, and reporting to key stakeholders.
You will walk away with:
Actionable tactics you can put into practice immediately
Content developed and ready to launch
New tools to measure and show the return on your new and social media strategy
A 2019 participant said, "What a great blend of data, research, and practice. The down-to-earth approach of the presenters was excellent."
Here's a breakdown of the approximate costs:
Registration: $279
Hotel cost is $119/night
Travel to the University of Minnesota, St. Paul campus
Can't travel? This is the first year we are offering a virtual ticket. We plan to keep it a hands-on experience and integrate virtual participants through new technology. Virtual ticket holders will need access to a webcam and high-speed internet to participate in this experience, but can do it from home or from the office! The cost of registration is the same, so we can offer the same quality experience.
We look forward to you joining and learning with us at the 2020 Insight Summit in person on the University of Minnesota St. Paul campus or online from your home or office!
To keep the intimate feel and hands-on experience, seats are limited, so sign up today: https://www.eventbrite.com/e/insight-summit-2020-registration-69445949705.
You can also find out more about CREE and the event at http://ruralengagement.org.
Or connect with us on Facebook at https://www.facebook.com/RuralEngagement/.
--Drs. Lauri M. Baker, Cheryl R. Boyer, and Hikaru H. Peterson