January 28, 2020
Our New Associate Director for Extension Programs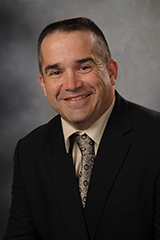 I am extremely pleased to announce that our new Associate Director for Extension Programs is Dr. Rick Peterson. Dr. Peterson will assume those duties by June 1, 2020. His academic home will be the School of Family Studies and Human Services.

Dr. Peterson is a Kansas native and is no stranger to Kansas State University. He earned his Bachelor of Science (Agriculture), Masters of Science (Human Development and Family Therapy), and Doctor of Philosophy (Human Ecology Family Studies) at Kansas State University.

Dr. Peterson's vast professional experience includes farming, serving as a Crisis Intervention Specialist with the Farmer Assistance and Training Service (the forerunner to our Kansas Agriculture Mediation Services), and as an Extension specialist at Virginia Tech University, Colorado State University, and Texas A&M AgriLife. His focus as a specialist included mediation and family life education. His professional experience has made him extremely knowledgeable and visionary regarding local unit programming, distance and digital Extension program delivery, inter- and transdisciplinary programming, and non-appropriated program funding generation.

Dr. Peterson, welcome, and we look forward to working with you as you help guide our future Extension programming endeavors!