August 11, 2020
Keeley Tabbed to Lead Horticulture and Natural Resources at K-State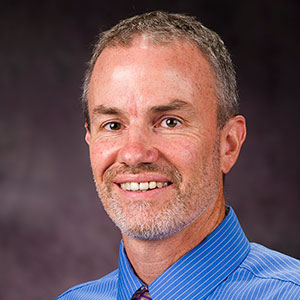 Steve Keeley, who is beginning his 25th year in teaching, research and Extension at Kansas State University, has been named the head of the Department of Horticulture and Natural Resources.

Keeley was the department's interim leader since October, 2018. Ernie Minton, dean of the College of Agriculture, recently announced that Keeley will now move into the position permanently.

"As a longtime member of the K-State faculty, Steve is well-positioned to lead the department in adapting to emerging challenges brought on by the pandemic, while recognizing the opportunities for building on the department's areas of strength," Minton said. "Steve's calm demeanor, coupled with the esteem in which he is held by his colleagues, will serve the department very well."

Keeley will lead a department that includes programs in horticulture, park management and conservation, and wildlife and outdoor enterprise management. He said he is especially excited about working with "wonderful faculty who are nationally and internationally known for their outstanding teaching, research and Extension accomplishments."

The department's undergraduate programs each rate in the top five nationally and K-State graduates are in high demand, he said, "not only in Kansas, but across the nation."

"The research our faculty and graduate students are doing is so diverse and impactful; it's exciting and really keeps me on my toes," Keeley said. "We are also known for our innovative Extension programs that serve the needs of Kansans and beyond the state."

For most of his career, Keeley has held an 80% teaching and 20% research appointment in the department. His research interests include low-input turfgrass management and weed control, and he has published more than 175 articles, reports and abstracts on his research – including 34 refereed journal articles.

He has served as a senior editor for the professional journal, Crop, Forage and Turfgrass Management, and is on the editorial board of the NACTA Journal, published by the North American Colleges and Teachers of Agriculture. Keeley is also a teaching fellow for NACTA.

In 2014, he received the prestigious Crop Science Society Teaching Award, just the second turfgrass scientist ever to receive that honor. During his K-State career, he has helped to acquire more than $1.1 million in grant funding for research.

His teaching duties include introductory horticulture, horticultural pest management, turfgrass management and turfgrass pest management. He also advises undergraduates in K-State's golf course and sports turf management program.

Keeley earned undergraduate and doctoral degrees from Colorado State University, and a master's degree from Michigan State University.

"I am honored and humbled to be entrusted to lead the Department of Horticulture and Natural Resources at K-State," Keeley said. "The people in this department are second to none, and I am excited to work together with them to continue making the department elite nationally."

Learn more about the department online at https://hnr.k-state.edu.