November 3, 2020
First Friday eCall: How From the Land of Kansas Helps Businesses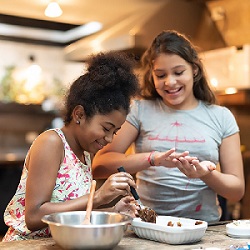 Many of us forgot how satisfying a home-cooked meal was in our search for convenience, but the pandemic sent us back to our kitchens and proved we want to buy and eat local food.

This month's First Friday e-Call focuses on From the Land of Kansas presented by Marketing Manager, Janelle Dobbins. Dobbins says, "The From the Land of Kansas brand makes it easier for people to find and support Kansas-made products and Kansas-based businesses." She will talk about the array of incentives to Kansas companies – big and small – who grow, raise, serve or produce products in the state. Dobbins said, "We have new member benefits and services launched in the past few months, as well as the holiday gift box program that may be just the thing to express appreciation for family, friends, and clients this year."

Please share this invitation with others. A one-time registration is required. To register: https://tinyurl.com/y9pjybxv.

Within 24 hours you will receive a confirmation email containing information about joining the meeting. If you don't get it, check your spam filter; the email will come from Nancy Daniels <no-reply@zoom.us>. The confirmation has a calendar item to put into your calendar so that you have the access information.

If you have questions, contact Nancy Daniels, nkdaniels@ksu.edu.