July 13, 2021
Meeting the People of Kansas Where They Are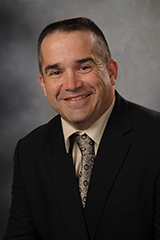 "Meeting people where they are" is an oft used expression in extension. It has many applications. One such application of the phrase is literal. In order to educate a learner, an educator needs to be where the learner is when the learner is ready to learn.

Extension has a long history of adjusting its program delivery to meet learners where they are. In Kansas we have the following examples, among others: radio, home demonstrations, railroad shows, newspaper articles, publications, newsletters, email, peer mentoring sessions, conferences, meetings, workshops, town hall meetings, email, telephone, and one-on-one advising. I do not think we have had a railroad show in quite some time, but all of these face-to-face and non-face-to-face methods of engaging our learners are still in use to some degree today.

Back in my days as the ANR and Community Vitality Program Leader, my agent advisory team often lamented that a growing number of producers did not want to meet in traditional conferences, producer workshops, and other forms of group face-to-face meetings. Our other program areas reported similar challenges. The hectic schedules of today's modern families make it difficult for adults, youth, and community leaders to go to traditional meetings and workshops. They often have to choose one activity over another (or two or three).

Digital technology and virtual education is one way to meet people where they are in our busy modern society. People can listen to a podcast when they are engaged in other activities. They can still attend a meeting that they couldn't physically get to by viewing it live via Zoom or some other platform. If they are too busy to attend it in person and watch it live, they can watch the recorded Zoom meeting or, if it is a more formal educational offering, via Canvas Pro. Furthermore, if a needed program requires a specifically trained extension professional to deliver it, but there is no such extension professional in that part of Kansas, digital technology and virtual education can help fill the void.

We had a lot of success with digital technology and virtual education during the COVID-19 challenge. We quickly adapted and learned that we could be successful at it. My hat is off to all of the extension professionals and volunteers that stepped up to this challenge. We had local-unit, regional, and state-level professionals and volunteers effectively employ virtual education programs. We helped prove that extension will always be there for the people of Kansas no matter the conditions or what educational delivery platforms were needed. We also found out that we could reach new and traditional extension audiences through virtual education.

I have heard some rumblings from a few colleagues that we are over-emphasizing virtual education and complaints about a virtual education mandate. Let me be clear. The only time virtual education was mandated was from March until July of last year during the COVID-19 challenge. Nevertheless, it is an educational delivery tool (just like all of the tools mentioned above) that we, as extension professionals and as an extension system, need to become proficient at employing. I do not think that employing virtual 100% of the time is effective at reaching an optimal number of Kansans. I also do not think, as we have noted in the past, that being 100% face-to-face is effective at reaching an optimal number of Kansans. There is a sweet spot where both are used, and that sweet spot will probably vary across Kansas based on variety of factors - with the most important being learner preferences.

Face-to-face education will always have a prominent place in our educational delivery quiver. In fact, I believe that as we come out of the COVID-19 challenge, there will be a renewed thirst in the short term for face-to-face programming. Still, learner preferences and the busyness of our modern society will mean that virtual education programs will be in high demand in the future. We must meet that demand as public educators and servants.

I realize that this virtual education may not be the preferred educational delivery tool of some. I, in fact, prefer face-to-face and feel that my educational skills are better suited for face-to-face. Nevertheless, as educators, we (including me) must meet learners where they are. A lot of the people we serve are in the virtual learning world. We need to be there, too!