October 5, 2021
The Community Health Corner
Submitted by Elaine Johannes and Stephanie Gutierrez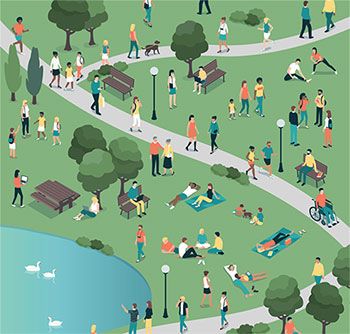 According to the CDC, community health uses science-based approaches for the greatest health benefit to the greatest number of people by addressing social, economic and structural drivers that impact health. Addressing policies, conditions and inequities that contribute to the poor health of Kansans is the most effective way to tackle big health issues. Being healthy is not just about individual choices, it's also about the conditions that influence everyone's health.
APPLY NOW: Last week, WSU and KDHE announced the "Increase the Reach" grants initiative to increase vaccine equity among vulnerable populations. Grants, expected to range from $10,000 to $250,000, will be awarded to community-based organizations that promote health equity among socially vulnerable populations and those experiencing low vaccination rates. First round applications should be submitted for consideration by 5 p.m. CT on October 15, 2021. Additional application rounds will run thereafter. Information is available at https://www.increasethereach.com/.
ANNOUNCE NOW: The Kansas Department of Children and Families (DCF) has launched a Mobile Crisis Helpline which offers services for all Kansans 20 years old or younger, including anyone in foster care or formerly in foster care, to help resolve a child's behavior health crisis. Services range from phone support and problem solving, referral to community stabilization services, and in-person mobile crisis response. Call 833-441-2240 for the DCF Mobile Crisis Helpline. The program flyer is located here.
CHECK IT OUT NOW: KDHE is involved in the state health assessment and improvement plan to answer the question, "What are the Top Health Issues in our State?" The resulting state health improvement plan will be informed by the national 2030 Healthy People framework. Resources and 2030 Healthy Kansas updates are posted here.
For more information, contact Elaine Johannes, ejohanne@ksu.edu.