October 5, 2021
Diversity Programs Office Upcoming Events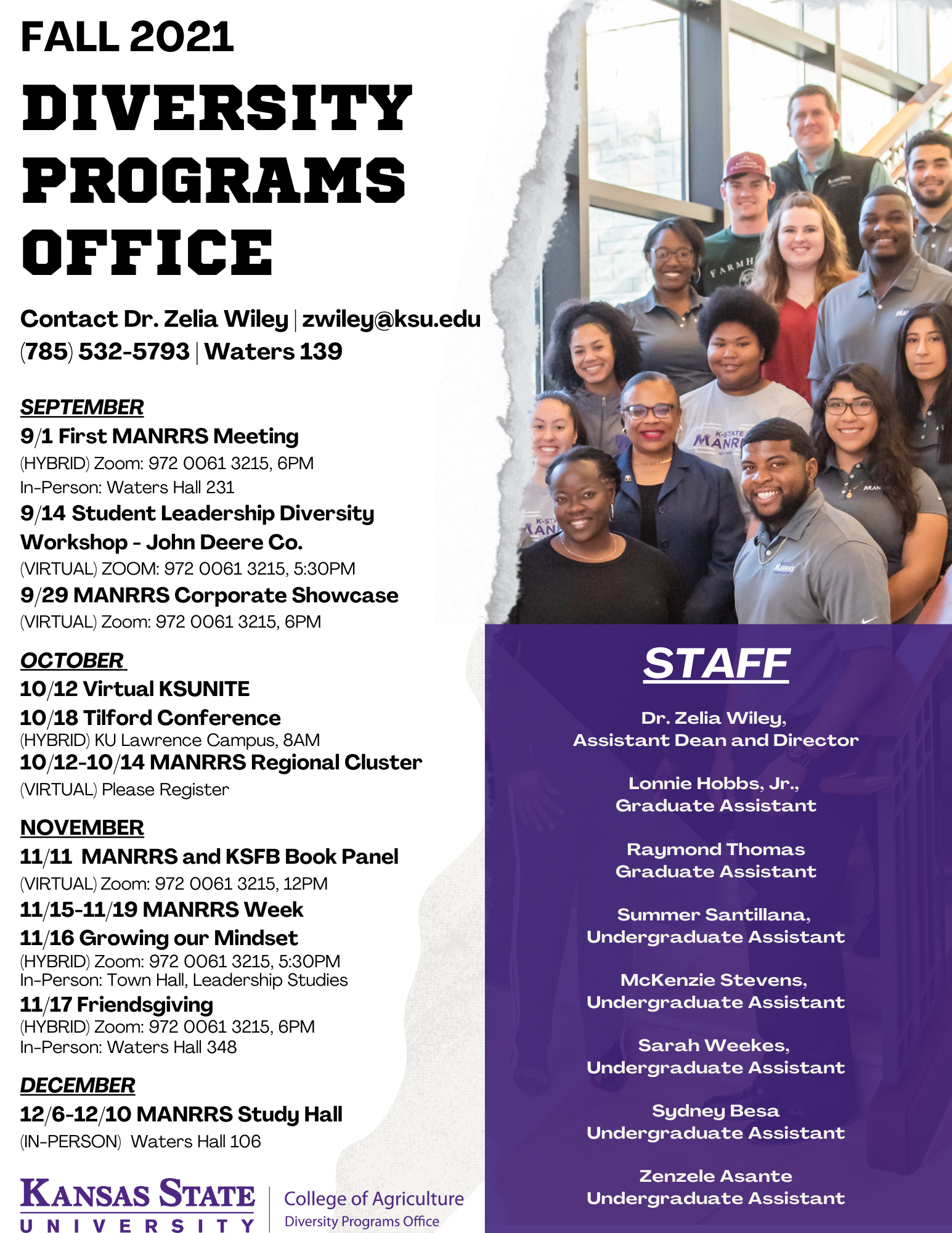 The College of Agriculture/KSRE Diversity Programs Office (DPO) would like to wish you a happy October!
Please join us this month as we celebrate Hispanic Heritage Month, Filipino American Heritage Month, and Italian American Heritage Month with an assortment of events and activities.
On September 29, at 6 p.m., the K-State Minorities in Agriculture, Natural Resources, and Related Sciences (MANRRS) Chapter hosted the virtual Fall 2021 Corporate Showcase. This showcase featured corporate partners: Land O'Lakes - Purina, Cargill, Merck, Compass Minerals, Ardent Mills, Mars Petcare, Syngenta and John Deere Co. The partners presented to the students about their company and the opportunities available in industry, and then the students had an opportunity to ask questions and network with the corporate partners. Overall, the event was a success with over 30 participants! Thank you to our corporate partners that participated and to the students who attended the event.
Tomorrow, at 8:30 a.m. in the K-State Student Union Courtyard, the DPO, Hispanic American Leadership Organization (HALO), College of Agriculture (COA), Diversity and Multicultural Students Affairs (DMSA), and other organizations on campus are partnering in hosting the 15th Annual Midwest HALO Encuentro at the Manhattan K-State campus. This event will invite over 400 Hispanic students to learn about the unexpected challenges they may encounter during their collegiate years and learn about how others before have overcome these challenges to attain their educational goals.
On October 11, at 9 a.m. in the K-State Student Union, the KSU Indigenous Faculty and Staff Alliance and organizations around campus are partnering in hosting the 2021 K-State Indigenous Peoples Day. This year's activities will consist of multiple breakout sessions, keynote speakers, and more to discuss and bring awareness to the issues of "Sovereignty: Food, Film, and Policy."
On October 12, at 11 a.m., K-State will be hosting the annual KSUnite event. This event will feature speakers and numerous breakout sessions with a goal of meaningfully engaging and holistically embracing opportunities for respect, civility and tolerance within the K-State population. The DPO Diversity Research Team will present an "Assessment of Diversity Experience of Kansas State University College of Agriculture Undergraduates during the COVID-19 Pandemic," during breakout session #1 at 2:00-2:45 p.m. in the K-State Student Union, Bluemont Room. The DPO Diversity Research Team includes Dr. Zelia Wiley, Assistant Dean and Director for Diversity Programs in the COA; Dr. Andrew Barkley, Professor in the Department of Agricultural Economics; Lonnie Hobbs, Jr., Ph.D. student and graduate research assistant in the Department of Agricultural Economics; Raymond Thomas, Ph.D. student and graduate research assistant in the Department of Agricultural Economics; and Summer Santillana, undergraduate senior in the Department of Agricultural Economics and undergraduate research assistant.
On October 18, at 8 a.m., the DPO Diversity Research Team (as mentioned above) will present during the Michael Tilford Conference on Diversity and Multiculturalism at the Lawrence Campus of KU. The presentation will take place at 1:45 p.m. in the Alderson Auditorium and will feature an "Assessment of Undergraduate Diversity Attitudes and Experiences during Covid-19 in the College of Agriculture at Kansas State University."
Please join us, the Diversity Programs Office, as we participate, partner and present in these upcoming events.
Thank you for your continued support of our programs and efforts. All are welcome to these events, so please join us throughout the semester. Continue to look for more diversity news and events as we continue to advertise. If you require any additional information about these events, please contact Dr. Zelia Wiley at zwiley@ksu.edu, or 785-532-5793.