October 12, 2021
Join Us in a Diversity Challenge!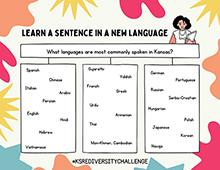 The work of diversity, equity, and inclusion can often seem daunting. You might ask "How can I make a difference? Where do I start?" The Diversity, Equity, and Inclusion Implementation Task Force suggests taking one small step at a time. We will be proposing a series of Diversity Challenges over the next few months, and inviting you to share your responses on the Difference Makers Facebook page, or on Instagram with the hashtag #KSREDiversityChallenge.

Our first challenge is a good one to try as we move toward Annual Conference (Oct. 19-21): Learn a greeting in a new language. The accompanying graphic gives you an idea of how many different languages are spoken in Kansas. Maybe you know someone who speaks one of those languages and can ask how they would say hello, or good morning in their language. Or you can use a tool such as Google Translate to find a greeting in a different language. Then, try using the greeting in your home area, or when you get to Annual Conference. The first 50 participants in the challenge will get a KSRE gift at annual conference. Remember, be sure to share your experience with the hashtag #KSREDiversityChallenge!