February 8, 2022
Diversity Programs Office: Black History Month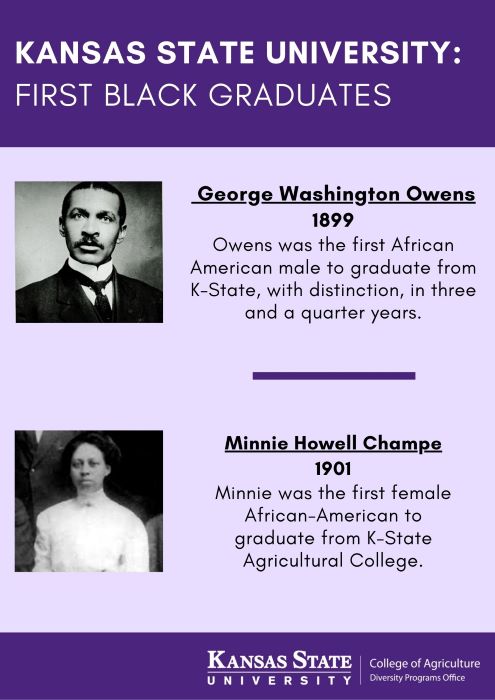 Happy February and Black History Month! In celebration of the month, the College of Agriculture/KSRE Diversity Programs Office (DPO) and the K-State Minorities in Agriculture, Natural Resources, and Related sciences (MANRRS) Chapter would like to recognize George Washington Owens (1875-1950) and Minnie Howell Champe (1878-1948), the first Black male and female graduates of Kansas State University for helping to pave the road for all who have followed. Follow our social media for more highlights throughout the month of February.
The Diversity Programs Office would also like to welcome Me'Laiha Enriquez to the team! Me'Laiha is a K-State undergraduate student majoring in Fashion Studies and Marketing. She is also a 2021 Project IMPACT KOMPASS Scholar. We are excited to have her share her talents with us.
Please mark your calendars to join us throughout February and March, as the DPO and MANRRS have many upcoming events noted below:
February 8 – KSRE Multicultural Summer Research Fellowship Application Deadline
February 8 – Happy birthday to Lonnie Hobbs, Jr.

DPO Graduate Research Assistant and K-State MANRRS Co-Advisor

February 9, 6:00 p.m. – College of Agriculture Resumé Writing Workshop

Waters Hall 342
The DPO and K-State MANRRS plan to support this event, hosted by the MAB program and the Career Center.

February 16, 6:00 p.m. – Virtual MANRRS Corporate Showcase

Zoom ID: 921 5689 0187
Join us in hosting John Deere Co., Cargill, Ardent Mills, USDA, Merck Animal Health and Syngenta during this event

March 23 – Indigenous Students' College for a Day

In partnership with the Indigenous Faculty and Staff Alliance, K-State College of Agriculture, Diversity and Multicultural Student Affairs (DMSA), and Indigenous students in the State of Kansas

March 23-26 – National MANRRS Conference in Jacksonville, FL

K-State MANRRS will be represented by a 12-student delegation
The College of AG/KSRE Diversity Programs Office and the K-State College of Veterinary Medicine will partner during the Career Fair at the conference
We are proud of our students and their efforts. These are trying times of adjustment and we ask for you to embrace all in the path to move forward. Thanks in advance for your participation in the upcoming events. If you would like to see more of what is coming, please visit our social media pages: Facebook – Diversity Prog Office- Kansas State University; Twitter - @dpo_kstate; Instagram - @dpooffice.
If you require more information, please contact Dr. Zelia Wiley, Assistant Dean and Director of Diversity Programs, at 785-532-5793 or zwiley@ksu.edu.