February 15, 2022
So You Think "I Don't DO Community Vitality?"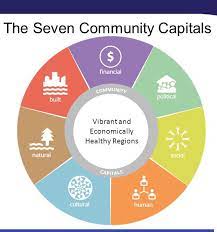 Local extension agents have so many roles and wear so many hats they often say, "I don't DO community vitality" as a way to set boundaries for their capacity.

This week, agents will gather by zoom to attend a remote Agent Update. Since the conference has traditionally served FCS agents, you may not have taken note that efforts are being made to broaden its scope to issues beyond FCS. This Thursday, from 10 -11:15, seven local agents from various disciplines, will talk about the work they've done in their communities and how the work played a role in building Community Capitals.

"Community Capitals" is research by Cornelia and Jan Flora to describe and document community assets. The seven community capitals are natural, cultural, human, social, political, financial and built. Each asset makes your community unique and contributes to a better quality of life.

Come hear Aimee Baker, Justin Goodno, Tristen Cope, Tara Markley, Marty Gleason, Bertha Mendoza and Christina Holmes tell about the work they've done to build on these assets or to create assets in spaces where they did not exist.

To join or to see the full agenda, please see https://www.ksre.k-state.edu/fcs/agent-update/index.html.